When Dotty and Astrid began talking, it quickly became obvious that they had a lot in common. "We discovered that we both had to overcome terrible shyness," says Dotty. "I was practically afraid to speak in junior high and at the beginning of high school."

Then they learned that a mutual interest in drama and theater had helped each of them overcome that shyness. The twist? Astrid is a teenager. Dotty is 92.
The conversation is typical of interactions at the Sharing Teens and Elders Project (S.T.E.P.), an intergenerational program that links teens and seniors. Recently, the Senior Action Network recognized S.T.E.P. at their annual awards dinner as Outstanding Caregivers of the Year.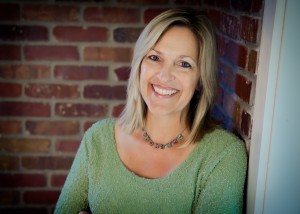 S.T.E.P founder Linda Terry says the program doesn't fall into the caregiving category in the traditional sense, since all of the participants are on equal footing. On a regular basis, teens from area high schools visit seniors at Boardwalk Apartments and other senior centers to share activities and conversation. After introducing themselves to every elder in the room, the teens pair up with one and discuss a question or topic of the week, then rotate to another partner.
In the beginning, the pairs tended to stick with the games that Terry, a brain training specialist who conducts workshops for seniors, corporate groups, and schools, introduced. Fairly quickly, she noticed a change.
"Most of them started dumping the games and just talking," she says.  "That's when I went, 'Oh. This is the important piece.'"
When both teens and seniors describe those conversations, the benefits are obvious. "The interaction has been really good because they see into our world and we get to see into theirs and it brings us closer together," says Pat Hunter, 78. "It gives us more understanding."
Terry's son Mak, a senior at Olympia High School, says S.T.E.P. helps to dispel stereotypes – on both sides. "There are ideas about older people being boring and living in the past. Coming into this program I probably had some too," he says. "But once I got into it and built a connection, I've learned that they're really fun. They like to do a lot of the same stuff, and watch the same stuff and they've gone through the same things as we have."
Dotty Barr, the formerly shy 92-year old, agrees. "The most rewarding thing has been learning about the younger people," she says. "It's given me a whole different concept of this generation, the depth of their thinking and their interest in people like myself. It's also made me revisit my own youth and think about what I was experiencing at this time. In many ways it was very different, but in many ways it's very similar. I've just come to love these guys."
Sometimes, those similarities can lead to humorous moments. "During a one-on-one conversation, I was talking with my partner about relationships," says Hunter. "I asked her, 'What do you like the least about school?' and she said, 'The gossip and the rumors.' I told her, 'In my building, it's the same. I don't like that either.'"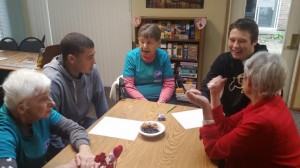 "She looked at me and said, 'You mean you haven't learned not to do that yet?' and I said, 'No, unfortunately not.' Those 'aha' moments are really what stood out to me."
Humor runs through many of the interactions, says Rita Allen, 74. "We laugh so much and have a wonderful time. Aside from being awe-inspiring, it's also fun."
For Sophie Wood, a senior at Olympia High School, that's an important piece. "It just brings me so much joy," she says. "Whenever I go, I always leave with so much more joy than when I came in. I think that's what S.T.E.P. really embodies." Wood initially got involved with the program as part of required community service for her school soccer team, but was hooked after one session.
After two years, many of the students who originally started with the program are heading off to college.  Many have filled application essays with stories of their experience at S.T.E.P. Mak Terry received a $1,000 Martin Luther King Jr. scholarship as a result, and another student was accepted to a college in Boston last year. "It said right in the acceptance letter, 'We can tell that you care about mental health based on your work with S.T.E.P.,'" says Linda.
The older students have begun training the next generation of teens in brain games and what they've learned about talking with elders. Demand for the program is increasing both regionally and nationally, says Terry. "Mason County wants us out there. I've got twenty kids at Timberline High School that want to get involved."
Next steps include exploring the program's new non-profit status and working on a manual so that the program can be replicated. "Madison, Wisconsin wants it," says Terry. "I want to put it in writing so that people can run their own programs based on activities that we've done that have been most effective."
Ultimately, she'd like to make a shift in the youth-oriented culture that tends to ignore elders. "This is about changing the social norm of the generations," she says. "Let's keep this going. Let's make that change."
For more information about Linda Terry Brain Training, visit her website or call (360)480-1894.