Touché Beauty Bar is a full service spa and nail suite that provides premium skin care, waxing, massage, nail services, and lash and brow extension services in a beautiful, historic space on Olympia's Upper Eastside.
It is true that since opening in 2013 most of the women and men who frequent the boutique style spa come for the skincare or waxing services.
Owner Jenell Arnold and her team offer a wide range of treatments designed to pamper clients and leave them feeling renewed. Some clients come to celebrate a private event in the lovingly appointed full service spa while some come to shop. Along with Jane Iredale makeup, Glymed Plus, and GM Collins skincare products, Touché Beauty Bar carries an extensive selection of beauty products as well as distinctive boutique items from a rotating assortment of designers such as LaLicious, Voluspa, Clarisonic, Spiritual Gangster, Leeliu Lily and Fair Portia.
Yet in addition to the allure of the historic charming brick structure where Touché Beauty Bar operates, the rejuvenating treatments, and diverse collection of local and beauty oriented products nearly every client greets and calls out to the Touché Beauty Bar spa pets.
"I believe that pets are healing. We have clients stop by just to see the animals on days when they do not even have an appointment. For the most part, our clients want the animals to be around them. When I do not bring one of the spa pets in, the clients ask about them," shares Arnold.
Esme, a French Bulldog, is the newest addition to Touché Beauty Bar. Esme joined Leo, an English Bulldog, and the Touché Beauty Bar family in the fall after the beloved Milly passed away from lung cancer in August. Esme is a friendly, mild mannered member of Touché Beauty Bar.
Still hanging around is the Touché spa cat who typically lounges upstairs on the warm tile floor. Unlike Leo who enthusiastically bounces out from behind the reception counter when clients call out to her, the spa cat remains tucked away in her comfortable spot until a client makes a specific request for her. "I have a few clients who want to snuggle with her when they are getting lash extensions since it is not such a private service. But I even have clients who want the cat when they are getting their facials. It brings them additional comfort and relaxation during their treatment."
Arnold intentionally secured the former brick residence that she had driven by all her life and renovated the interior into a vibrantly pleasing boutique spa. She then assembled the most talented and caring team of massage therapists, estheticians, nail technicians, and spa manager. The spa pets have unexpectedly added to the Touché Beauty Bar team and spa ambiance.
"Really what we are trying to do here is create the most comfortable setting for our clients – whether that is through greeting the spa pets, sharing the service with one of the animals or just coming for our top notch services," explains Arnold.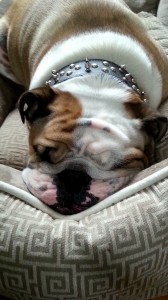 "I am so blessed that our clients are happy to be here and keep coming back. Our services and treatments are a choice in life. The connections I make with clients and the friendships are real," she adds.
"And as a business owner, I want to make sure I am operating a successful venture not only for myself but for my team. I want to create an income for these women who are on my team and their families. Really if you focus on what you love to do then the success will come. I host events to give back to my clients. It is an amazing circle of giving and getting back from clients and my team," she summarizes.
To learn more and to receive the latest updates on Touché Beauty Bar events, flash sales and appointment openings visit the Touché Beauty Bar Facebook page.
Touché Beauty Bar
1912 State Avenue NE
Olympia, Washington
360-972-2345
Sponsored