No matter the occasion, flowers always seem to make the perfect gift. Whether spoiling that special someone or surprising grandmother on her birthday, flowers never fail to brighten someone's day. However, if you're new to giving flowers, you may find yourself feeling a bit overwhelmed with options. With so many different varieties of flowers and so many meanings behind them all, knowing which flowers to gift to a new girlfriend versus your boss can be challenging. Luckily, Michelle LaPraim, owner of Elle's Floral Design in Lacey, is here to help cut out the guesswork with these straightforward tips for stress-free flower shopping.
When to give flowers
We all know flowers are a big hit for holidays like Valentine's Day and Mother's Day, but LaPraim says Easter, Christmas, Thanksgiving, Administrative Professionals Day and Bosses Day also dish up big numbers when it comes to flower orders. Knowing which holidays are busiest is important if you want your flower order to be ready on time. If planning on ordering flowers for Valentine's Day or one of the other holidays mentioned above, be sure to place your order early, many days (or weeks, even) in advance of the occasion.
While the aforementioned holidays may be the busiest time of year for florists, there are numerous other occasions where gifting a bouquet is appropriate. Birthdays, anniversaries and other milestones are equally appropriate times to present someone with flowers — and you can never go wrong with surprising someone with a bouquet, just because.
In addition to happy celebrations, flowers are also an appropriate way to console someone who is grieving or ill. Whether attending a funeral or visiting a sick friend at the hospital, flowers have a way of saying what words often can't, making a bouquet an ideal gift for individuals going through difficult times.
Tips for choosing an appropriate arrangement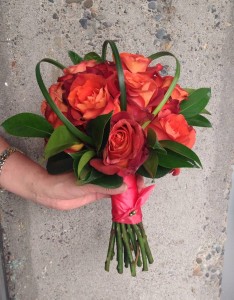 When gifting flowers for Valentine's Day, roses are an obvious choice, but whether it's Valentine's Day or not, you can never go wrong with presenting the recipient of your gift with a bouquet or arrangement of their favorite flowers.
LaPraim says this rule particularly applies to relationships, and, if you don't already know what your significant other's favorite flowers are, there are some subtle ways to find out. "As relationships grow, flowers become symbols of different events and milestones in our lives together," LaPraim explains. "Take note of her favorite flowers — the varieties at your wedding, flowers you sent her when you first started dating, or the ones she buys for herself. Those will have great meaning and impact.
While favorite flowers and seasonal arrangements are usually a failsafe choice when gifting flowers for a holiday or milestone, there are some occasions where you may want to include more meaning behind your bouquet. LaPraim says this is especially true when presenting flowers at a funeral.
LaPraim says traditional flower choices for a funeral or memorial service include: lilies, gladioli, carnations, chrysanthemums and roses. While different flower types evoke certain feelings, color also plays a big role when it comes to sending an underlying message. For example, LaPraim says white roses evoke reverence, humility, innocence and youthfulness, while red roses convey respect, love and courage. If you want to share a message of love, grace and gentility, LaPraim says pink roses are the way to go.
If you are unsure what flower variety or color embodies the message you are trying to share, your florist is your best resource.
Alternatives to a traditional bouquet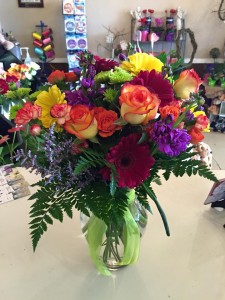 Both classic and timeless, bouquets are always appropriate. However, if you feel like switching things up a bit, LaPraim recommends gifting a flowering plant or garden arrangement. LaPraim says these types of flowers make the perfect "just because" gift. "A fabulous flowering plant or a garden-style arrangement with greens and soft pastel hues — no matter what the flower — will send the message that you care.
For more information, general inquiries, or to place an order, visit Elle's Floral Design online or in person at its Lacey location. (And don't forget, Valentine's Day is just a few short weeks away!)
Elle's Floral Design
730 Sleater-Kinney Rd SE in Lacey
360-791-5704
Sponsored