The other morning my tween son had a doctor's appointment. We dropped his little brother off at school and made it to the appointment on time. After receiving a good bill of health, instead of rushing straight to class, I suggested breakfast. So we pulled into a diner, ordered a pile of pancakes, and talked – just the two of us.

I felt really great dropping him off at school that day, enjoying that we'd snuck a little time out of our regular schedule, that we'd giggled over the fact that he'd received both a kid and adult menu, and that he was headed to class with a smile – and maybe a little syrup – on his cute little face (which will be mustachioed before I know it).
It doesn't come as a surprise that behavior, health, and communication improve when we spend quality time with our tweens, but it can be hard to find activities that both parent and tween can enjoy – and afford.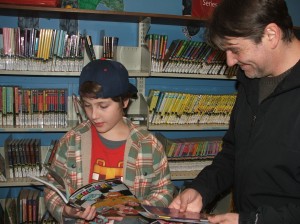 So, before they grow up and head into the adult world, here are 8 date ideas to enjoy with your tween.
Visit the library. While it may seem a cliché, the library is actually a great (and free!) place to go with your tween. Browsing and talking about favorite books is a welcome way to spend quality time, but our local Timberland Regional Library branches often have scheduled activities too. For example, Timberland Regional Library's It's in the Bag ongoing event, provides 4th through 8th graders with a mystery bag filled supplies to create something cool at the library. Creations are displayed and one lucky participant will even win a prize.
Snag some breakfast. I may be partial to pancakes, but late-start breakfasts are a favorite way for me to steal some time with my tween. Don't tell the principal, but the occasional slow-going morning, at home or at a restaurant, is a tender way to say "hey kiddo, sometimes it's ok to just put the rest of life on pause while we catch up." Playing hooky for an hour isn't going to end the world, and it may be an opportunity for those good, deep talks.
Step into LOTT's WET Science Center. This downtown Olympia resource is great for kids of all ages, but is particularly geared for tweens and older. With tons of free events, from the history of toilets, to liquid nitrogen displays, to sea monster myths, the topics offered are sure to strike a chord with any kid, even those prone to eye-rolls at the slightest suggestion of something other than YouTube videos.

Tack on an extra twenty minutes of screen time – for the two of you to play together.

Partake in some screen time. Speaking of YouTube videos, how about watching or making one with your tween? Or playing video games, or hitting the arcade (especially that one that also has laser tag) or going to the movies? Instead of the usual arguments over screen time, try getting on their level and learning the latest minecraft discovery, check out P.F.U.D.O.R., (yes, I'm deliberately making you Google that one) or download an app that lets you create stop-motion videos.

Control the chores. One way to get tweens to enjoy chores is to let them have some control over it. Have them choose chores for the both of you. Indulge them in this game, and it can not only be fun, but productive. Building or cooking can fall in the category of chores and creating something together builds memories. That birdhouse you've put off building since they were six? Maybe it's a good time to revisit that project. Or pull out old family recipes and figure out just what that secret ingredient in grandma's lemon bars is.
Hit the gym. As we enter into the world of new bodies with our middle-agedness and their tween-agedness, a gym date is a great opportunity to blow off steam, talk about health and wellness, and discover new hobbies. Have you tried pickle ball at The Valley or tween cycling at the South Sound YMCA?

Get active with your tween. Local gyms are great resources and often have age specific activities.

Walk the trails. Another, less expensive way to get physically moving with your tween is to get outdoors and discover a wooded, or paved, trail. Biking the Chehalis-Western trail is perfect for an afternoon weekend date. Consider packing a thermos of hot chocolate or juice and a special snack to enjoy. There are nice spots to pull off the trail and enjoy each other's company.

Get crafty. Tweens are little creative geniuses! Their capacity for big ideas is huge at this age, and being present in the creative process is a great way to nurture your relationship and make date night count. (re)fabulous offers a variety of sewing classes that will put both you and your tween in stitches, and playing with clay, ceramics, blacksmithing and more at Arbutus Art School will get you in touch with artisan roots.
There are lots of opportunities to enjoy a special date with your tween — pamper night, sporting events, all ages concert. Have more ideas for parent tween dates? Drop us a line.
Thrifty Thurston highlights inexpensive family fun in Thurston County. The weekly series focuses on family-friendly activities throughout our community. If you have a suggestion for a post, send us a note at submit@thurstontalk.com. For more events and to learn what's happening in Olympia and the surrounding area, visit our complete event calendar.