If anyone had reasons to doubt, it was Gio Woods. But Woods, a 2004 River Ridge High School graduate, couldn't quiet his ambition to play professional basketball. Apparently, "can't" isn't in this big dreamer's vocabulary.

Coming out of a small college, Woods' ambition to play pro basketball was, well, farfetched. It wasn't like he was an All-American guard in college, starting for UCLA. He never even played Division I basketball and didn't even start for some major, big-time college. He wasn't even a full-time starter his senior year at Central Washington University, a Division II school. Instead, he was a sixth-man-to-the rescue, emergency points off the bench kind of guy. He averaged nearly 10 points.
Yet somehow, Woods, with this determined resilience, has proven that all that major-college resume stuff didn't really matter. For the past six years, Woods has played professional basketball internationally in Europe, the Middle East and now Africa.
He's played in Spain, Austria, Venezuela, Iraq, Saudi Arabia, Qatar and now in Africa. Woods flew to Tunisia, Africa, on Thursday, leaving his wife and three kids at home in Lacey.
"I just wanted to see the world," Woods said about his die-hard ambition. "Where the opportunity calls, that's where I'll go."
Woods says his life on the basketball court, traveling around the world, is simply an answer to no-quit determination, hard work and, most importantly he'll tell you, prayer.
"God has taken me everywhere," Woods said. "I asked to travel in my career. He's definitely given that to me. I'm flying to different countries a lot. I've probably stepped foot into 20 different countries in six years."
The roots for his big-dream ambition is part genetic. Both his mom and dad played professional basketball in Germany in the 1980s. However, before Woods would ever get a pro offer, he had to audition. Since no one was knocking on his door, he went to Las Vegas for tryouts with both the NBA's Development League and for European teams. That first year after graduating from Central, Woods didn't get a contract offer. So, he coached high school basketball with his dad, George Woods, in Michigan for six months.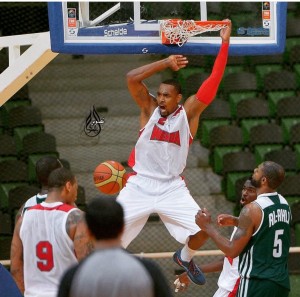 Woods' dream then took him to tryouts in North Carolina and back to Las Vegas. He played in three or four different European camps and then it started to happen.
"I was getting like five offers between two camps," Woods said. "And I signed my first deal to go to Spain."
He signed his first professional contract to play in Santa Cruz de Tenerife, Spain.
"It was a good experience. I played there for a year," Woods said. "The next year I went back to Vegas again for more tryouts."
That led to his second deal, a contract to play in Kapfenberg, Austria. The next year he went to Venezuela for four months to play basketball. That was a short league and Woods received a Player of the Year award.
"We lost in the semifinals that year," Woods said.
After that, Woods left Europe and headed for the Middle East and ended up signing with Iraq last year. In January 2015, he left Iraq and signed a deal to go to Saudi Arabia for five months and ended up playing well and led the league in scoring. He averaged 32 points a game.
"As an American import, they want you to come over and basically lead the team," Woods said. "Whether it's in scoring or a leader on the floor, they want you to lead the team. Europe is more team oriented."
When you play pro basketball in the Middle East, you get a paycheck to score points.
"If you can't score 30, they'll send you home and get someone else," Woods said. "They definitely want you to come out and show the fans why America is pretty much the best for basketball and that we have the best players."
This past summer, he signed and played in Qatar. He came home for Christmas and ended up cutting his contract with the team.
"And I signed the deal to go with Tanesia," Woods said.
That is the life of someone earning a paycheck. Players often make $60,000-plus a season to play professional basketball in Africa, Europe, and the Middle East.
Woods' family includes his wife, Destiney, who was his high school sweetheart and three children – two girls and a boy ranging in age from 5-years-old to just four months.  This time, Woods left his family at home. The season ends in April and he'll be back home. But he'll survive. He'll be staying in a hotel and getting three meals a day as part of his contract.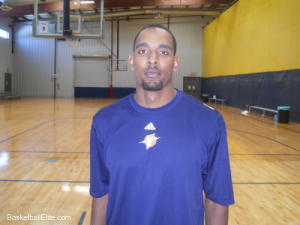 All along, as Woods has bounced from country to country, team to team, his goal has remained the same.
"My goal is just to make sure that my family is financially set," Woods said. "That's why I play – to make sure they're well taken care of financially. If I stopped today, I could say that I played professional basketball for six years. A lot of people I grew up with can't say the same thing. It's very hard to get into this profession. I will be comfortable with myself knowing that I got an opportunity to do this."
It's been a dream come true.