Submitted by Harlequin Productions
Harlequin Productions has been known for producing high-quality theater in Olympia for a quarter-century. In late 2013, the company decided to add improv comedy to the mix and announced the launch of its new troupe, Something Wicked. That troupe turns two years old this month.
In the past two years, Something Wicked has performed in 13 shows at the State Theater and hosted the annual South Sound Improv Comedy Festival. These shows have built a strong following of Olympia comedy fans.
"We average around 60 audience members per performance, which is especially good when you consider that our shows are on Wednesday nights," said Troupe Leader and Something Wicked founder Mark Alford. "And the festivals draw over 100 people to each performance."
The troupe has also performed at Capital City Pride, private parties, and Jet City Improv's Guest Fest 2015 in Seattle where they were the only troupe representing the South Sound region. But the highest honor came just last week when the troupe was informed that they were admitted into The Seattle Festival of Improv Theater (SFIT), one of the largest improv festivals in the United States.
"Getting into SFIT is a huge deal. The lineup includes troupes from all around the country," said troupe member Lars Jorgensen. "The application process is highly competitive, so getting in is a real accomplishment for us."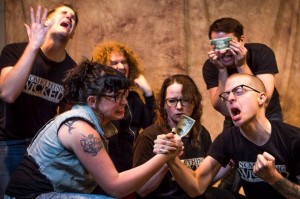 As if all these successes weren't enough, the group is expanding its performance lineup to include shows at the Midnight Sun Performance Space a couple blocks from their home at the State Theater. The smaller, more intimate venue will provide a different type of comedy experience, and the troupe couldn't be more excited.
"With Harlequin's seven-show season, the State Theater is only available for our shows a handful of times each year. So adding regular performances at the Midnight Sun will greatly increase our performance output," Alford said.
Comedy fans can get more info about Something Wicked shows at harlequinproductions.org/something-wicked-improv. The troupe's next performance at the State Theater is February 3 at 7:00 PM. Midnight Sun performance dates will be added during the year. Check the website for updated listings. Something Wicked is sponsored all year long by Earth Friendly Products and KAOS Radio 89.3 FM.