The first thing that strikes me, while visiting Dan Colgan's office, is the sheer amount of music. There are literally hundreds of music books lining the shelves, stacked on chairs, and piled on his desk. It appears that this man lives, breathes, and sleeps music.

I first became acquainted with Dan through my son's voice lessons and involvement in Olympia Youth Chorus' all-male chorale group, FORZA. It seems that Dan has always had a mind and heart for music. Nudged by the senior women at his family's church, he became the choir director at the tender age of 13. While still in high school, Dan founded the Poultney Area Community Choir, including all five church choirs in his hometown of Poultney, Vermont.
After fast tracking his secondary education, Dan headed off, at age 17, to Westminster Choir College in Princeton, New Jersey. He majored in music education as a voice performance major. Bored by the solitary nature of voice performance, and drawing on the few organ lessons he took as a child, Dan decided to add organ performance to his education.
In fall 2010, Dan noted a call for a church organist and choir director for Gloria Dei Lutheran Church via the American Guild of Organists. Dan was intrigued about the position after learning about Gloria Dei's rising membership and the recent addition of Pastor Doug Knutson-Keller in May 2009. He joined Gloria Dei in November 2010 and is appreciated by his fellow staff. According to Pastor Knutson-Keller, "Dan has expanded us beyond our walls through his work in FORZA and the various other youth and community groups he gives his time to."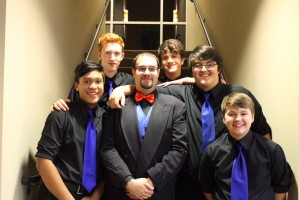 Along with his organist role, Dan also leads both the adult and youth choirs. Over the years, he has become the Assistant Director of the Olympia Choral Society, the dean of the local chapter of the American Guild of Organists, director of FORZA, and teaches private lessons locally and at Centralia College.
Where it seems that Dan has made the largest impact though is with our community's youth. According to Olympia High School freshman Eli Robbins Glidden, a recent addition to FORZA, "Dan is friendly, helpful, and charismatic. We're lucky that he formed FORZA so that guys like me, who are passionate about singing, have a place to go."
Since Dan sent off many of his veterans to college this past year, his group is relatively young and new to FORZA. Jamie Keenan de Vargas, also an Olympia High School student, adds, "Dan is easy to relate to because he uses personal examples from his experiences and that makes it easier for us to learn and grow."
And grow they have. In fact, this fall four college freshmen are currently enrolled in music related programs across Washington State and the country. Each of them took private lessons from Dan this past year. When discussing his prior students, you can hear the excitement in his voice. The idea that four young men have chosen a path similar to his is clearly gratifying. Dan is quick to point out that none of the students are majoring in music education, but that their majors range from music theatre to musical therapy and even music composition. You can't help but wonder if these four young men will head out into new communities themselves after graduation to change lives.
Although it's hard to imagine Dan ever taking time off with the various group's schedules, he works hard to carve out vacation time and really enjoys a good road trip. He recently travelled to Alaska by car venturing through British Columbia and spending a few days in Juneau before heading home via the ferry system. Dan also spends his down time watching the Boston Red Sox baseball team and NOT listening to music. Yes, you read that right. According to Dan, "Many people listen to music to unwind. I just don't. When I'm driving, I have the radio turned off."
When Dan isn't in his car, he can be found perusing the thousands of music selections in his office to find a piece that is a perfect fit for an upcoming performance.