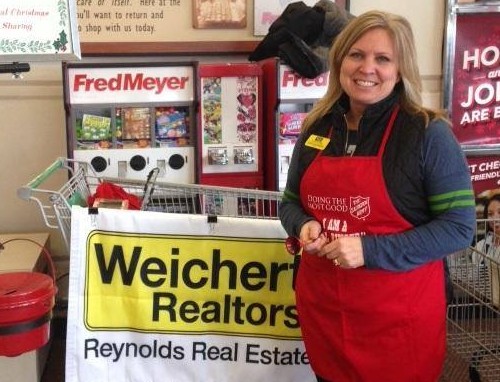 Submitted by Thurston County REALTORS® Association 
Charities in Thurston County received a boost in funds this month through two major charity fundraising efforts by the Thurston County REALTORS® Association.
Early in December over 200 real estate brokers from eleven brokerages were bell ringing for the Salvation Army.  The results throughout the county for their one day effort netted over $10,200 for the Salvation Army.  Abbey Realty was the winner of the competition between the brokerages with over $2,700.  Greg Moe has organized this event for the last four years and he noted that this was the most raised during this annual event and the most participants.
The REALTORS® also raised over $5,000 during their annual charity wreath auction.  Almost fifty wreaths that were handcrafted by various REALTORS® were auctioned during the annual installation luncheon.  The winning bidders were able to select the charity that their contribution would support.  Funds were provided to fourteen local area charities.
"Volunteering and supporting these REALTOR® fundraising efforts is exciting and rewarding…and my real estate career gives me that opportunity!"  Rae Anne Toth of Keller Williams Realty echoed the sentiments of many REALTORS® when it comes to giving back to the community.  REALTORS® help people find the homes of their dreams but beyond that, many have made giving back and improving the community in which they live, work, and play an integral part of their life.
The Thurston County REALTORS® Association of nearly 600 REALTOR® members provides professional real estate services to buyers and sellers primarily in the Thurston County area and are always working to protect property rights and our quality of life locally and in Washington State.