Austin Toth was fired up and angry as he stood in the principal's office after being taken there by campus security officers. He was tired of people telling him he was wrong and now he was in trouble, again.
At the end of that school day, Austin had exited out the double doors to the open courtyard at Black Hills High School. He couldn't wait to get out of there, to go home. He hopped on his board to skate away, but not without being seen by Assistant Principal Marty Reid.

"I popped out my door and said, 'Hey, no skateboarding on campus, once you get off the campus go for it, but not here,'" relates Reid, who had only been at the school a couple of days. "Normally, the student would pick up his board and respond, but Austin kept on skating."
"I called out again with my 'coaches' voice, 'Hey, you need to stop and listen! You are making a poor choice right now.' He looked back at me, but he just kept skating. I was going to figure out who he was. I radioed the campus security officer and asked them to grab him."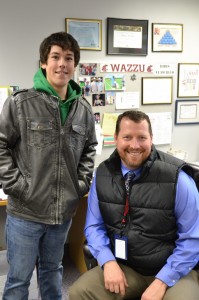 Austin had told the assistant principal that he didn't go to school there, sending up more red flags. He was either an intruder or he was lying. Both weren't good.
It ended up with a three-day suspension after another call to his mother. It was one of many calls to her over a period of three years, most of them involving Austin's chronic absenteeism.
"He was headed down the wrong path," says Reid, who now also serves in a dual role as the Principal at Secondary Options, an Alternative Learning School on the Black Hills Campus. "You don't see the repetitive violations of attendance without there being a real problem."
Austin turns the corner
Austin is now an attractive, respectful and well-spoken 17-year-old, which makes it hard to imagine his former rebellion. Today, Principal Reid sits across the table in his office from Austin, smiling about how far he has come since the day they first met.
Since his freshman year at Black Hills, Austin had been, as he describes, "acting out" after a family crisis had turned his world upside down.
A lot of young students turn angry and rebellious after a traumatic event. The difference with Austin is that he figured it out and is turning it right-side up again.
"It was a huge change for me," Austin says with a confident self-awareness. "I really didn't care about anything. I hated being bothered and always getting in trouble, always one more setback. I wanted to be left alone to do my own thing. I would leave school to hang out with friends."
Reid explained the consequences, but notes significant progress.
"Last year, he only passed one quarter," Reid adds. "Austin is now on schedule to graduate at the rate he is going now. He is doing really well."
What made the difference?
Austin says the change wasn't sudden, but that the realization happened over a few weeks.
"I was done running from all my problems. I was scared about not having a future, being stuck, and even ending up homeless. I saw what my Mom was going through because of me. It wasn't just affecting me, but people around me."
Last year, Austin also transferred to Secondary Options, a school that has successfully helped students—those frustrated in traditional schools—learn.
"They work with me," Austin explains. "You have two hours a day with the same teacher in the same class. We can learn a lesson and ask as many questions as we want so we understand it before we move on."
At a quarterly Secondary Options staff meeting in early November, Principal Reid asked the staff to share celebrations, things that were going well.
"Austin's name was brought up by Mr. Wood, his math teacher," says Reid. "From outright defiance to being recognized by his math teacher for the tremendous job he was doing to work hard to graduate on time, or at least be close to it. After a year of passing almost nothing, it's a great example."
"Every year, I look for a few examples of kids that turn it around. I told Austin a couple of days later, 'Currently, you are my example. So let's keep it going.' By the end of the year I will have a pretty good story to tell about him, most likely at graduation."
Helping others with newfound wisdom
When Austin sees other students skipping class, he speaks up.
"I'll tell them, 'You are making it harder on yourself. I have been there. School is important. Get to class.'" Austin actually checks on a younger friend, one he calls his little brother, to make sure he is in class.
When asked for his best advice for students to turn their life around Austin wrote the following in his own words:
It's not the end of the world, life keeps going so get on track now or later on it's just going to get harder and harder.
Once you get on track and caught up and have a plan to keep moving forward it's a whole lot easier and makes life so much less stressful – not only for you but for your parents.
Look at school like a job when you're at school. When you are at school, just do your school work and leave distractions for after school.
If you just do your work and what's expected from you, the staff will be more open and willing to work with you. 
When you're on track, there is a lot of pressure taken off you and it makes school and doing the work easier. 
Austin plans on joining the military and then attending college to learn architecture and engineering. "I want to design and build things," he says with a convincing smile.
When the days are hard, he now figures out how to make good decisions.
"I remind myself of where I am at now compared to where I was. I am in a good place and I am doing what I am supposed to be doing. I love it."
Even better, his mother, Rae Anne Toth, is bursting with pride.
"I am so proud of this superstar," she says. "Even more enjoyable is seeing him light up and want to reach out and help others. I could not be prouder that he is an example of how to turn your life around and has such a bright future. What more could a mother ask for?"