A swish of red plaid, a skirl of bagpipes, and a group of musicians moving as one: this is the magic of the Olympia Highlanders Bagpipe and Drum Corps. Since their first parade season in 1973, they've been a familiar sight at many local occasions. The Corps plays in all seasons, bringing a festive Scottish touch to such diverse events as the Olympia Wooden Boat Fair and Sylvester Park Tree Lighting.
I'd always assumed that the Highlanders were a professional group, but a little research revealed that, in fact, they are—and have always been—a self-sponsored, non-profit band.
Piper Anne Hall kindly forwarded an early biography of the group. (In addition to playing the bagpipes, Hall also functions as business manager for the Corps.) According to the document, "The Olympia Highlanders Bagpipe Band was constituted and established to perpetuate the Scottish culture through formation of a Scottish Bagpipe Band to provide educational, civic, patriotic and social pursuits for the community, its citizens and the State of Washington."
Some people watch the Corps perform and take to pondering that age-old question: what does a Scotsman wear under his kilt? Personally, though, I watch these men and women play and wonder what it takes to learn such a demanding instrument. How does one even begin to tackle the bagpipes? Pipe Major Steve Henderson has an answer. "You do not need to be Scottish to be a member of our band, nor do you need musical experience. But musical experience is helpful."
Henderson further explains that the initial monetary investment is slight. A practice chanter, which novices use to learn blowing technique and fingering patterns, can be had for as little as $50. The true investment is one of time. Graduating from the practice chanter to an actual set of bagpipes can take anywhere from six months to two years. As Pipe Sergeant Bill Collins explains, "Admission to the band comes when you can play what we call our five 'basic tunes' from memory… with the right rhythm and tempo."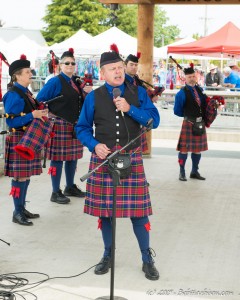 Their weekly meetings last for three hours. Band members spend their first hour working with beginners. "The last two hours are band rehearsal, working on new tunes, playing technique, and full ensemble playing," says Collins.
Band members also practice on their own because, as Henderson explains, "Practice is important to build the muscle memory in your fingers." Collins adds a humorous warning: "The family cat will not like pipes. The dog may. And pipes are a very loud instrument. Your neighbors will know you have taken up the pipes, so some negotiation may be necessary!"
Not surprisingly, all that effort and commitment yields great rewards. First and foremost, there's the thrill of making music for appreciative audiences. The group participates in 24 public events each year, and also hires out for private performances. Collins describes the special qualities of the Highlanders' various venues. "Parades are exciting. Funerals are moving.  One member remembers someone at a memorial service coming up and saying 'I was alright until you played Amazing Grace, then I lost it.' That's what the pipes can do—thrilling sometimes, tear-jerking another time."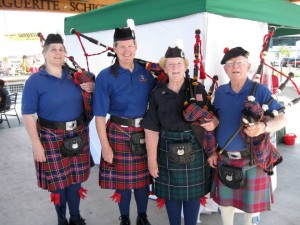 Another reward would be the thrill of travel. Though many of the Highlanders' commitments are local, they do travel all over western Washington. A highlight is attending highland games, which Collins describes as "an immersion in all things Scottish." He paints a vivid picture of the games, with haggis cooking, pipes playing, dancers performing, and athletes tossing cabers. A caber, according to Collins, is like "a small telephone pole."
Henderson appreciates the away events because the Highlanders carpool to them. But commuting together is just one of the ways they build camaraderie. The group has frequent social gatherings. Says Henderson: "St. Patrick's Day is always fun at O'Blarney's Pub in Lacey."
Henderson adds, "I have been in the band for 20 years. It is like my extended family."
If you'd like to learn more about the Olympia Highlanders Bagpipe and Drum Corps, be sure to check out their website. The events page is especially helpful, detailing their upcoming public performances. Looking for a musical challenge? The Highlanders happily welcome new members. Click here for contact information and specifics regarding rehearsals.