When Olympia Federal Savings employees start ringing the bell, at the downtown Olympia branch, to support the Salvation Army, they have some extra treats in store for visitors. This year, the Olympia Highlanders Pipes and Drums will perform, Oly Fed employees will be out in their holiday finery, and one lucky passer-by could be the winner of Bernie the Bear.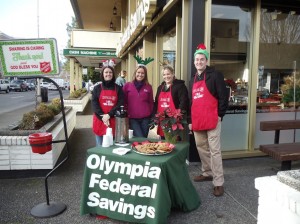 Dozens of local businesses staff bell ringers every year throughout Olympia, and it's become both an entrenched part of our local culture and an effective fundraising tool for the Salvation Army. Real estate offices and banks compete with each other to see who can raise the most money – a competition that keeps energetic, friendly faces surrounding the venerable red-hued donation boxes outside grocery stores and shopping centers throughout the area.
Twenty-five years ago, that wasn't the case. Bell-ringing was mainly the provenance of other service clubs and individual volunteers. But as anyone who has been in one of the Oly Fed branches knows, the bank employees like to have fun. The bank has long prided itself on community engagement and support of the many programs and organizations that make Thurston County a special place to live.
In 1990, those two motives came together when a group of employees decided they wanted to do something together to give back to the community and express their (fairly bursting) holiday spirit at the same time. The bell-ringing event satisfied both motives: they would raise money for the great work done by the Salvation Army, and they would also get to stand outside their branch (some of them in costume) having a merry old time. The bank got behind the initiative – with bells on.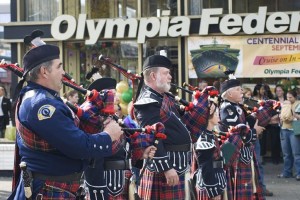 Today, the bell ringing event is a holiday tradition at Olympia Federal. "Every year we look forward to picking our time slots for the bell ringing," says AVP Chad Yerrington. "It's always nice to catch up with friends and co-workers while spreading holiday cheer in the downtown community."
"About three years ago I found a Santa suit in storage," adds loan closer Mark Johnson. "Now I wear it every year. I love putting it on and waving to the kids, and seeing their smiles and excitement."
The event is a part of Oly Fed's charitable efforts during the holidays, as employees and the bank itself work to make the holiday a little brighter for those who can use it the most. "For over 109 years, Olympia Federal Savings has stayed true to our promise to work for the betterment of the communities where we live and work," says Sandy DiBernardo, VP and Marketing Director. "Our employees genuinely care about serving others, and they give their time and talents generously throughout the year. During the holidays our employees are even more compassionate because we love our community – a true reflection of hometown banking at its best."
Those efforts are already underway at all Oly Fed branches, in the form of food bank donation boxes, which employees and customers fill generously with non-perishable food items. Through the Family Support Center employees have adopted a family. Oly Fed will combine bank funding with employee contributions to create a holiday to remember for a family of four, which is about to become a family of five. And the bank and its employees will be refurbishing the Oly Fed-sponsored room at Pear Blossom Place this year. Corporate and individual contributions are critical to the shelter, which provides temporary housing for displaced families through Family Support Center, and donated items help to spruce up a room that many families use during a uniquely challenging experience.
In addition (and perhaps partly because getting into the holiday spirit involves so many cookies), a record 32 Oly Fed employees took part in this year's Saint Martin's University Jingle Bell Run on December 5 benefitting athletic scholarships at the university.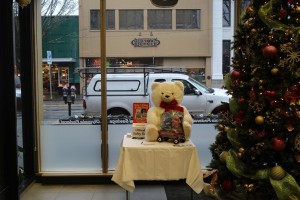 So when you hear bagpipes, honking horns, laughter, and a festive "Ho! Ho! Ho!" on the corner of 5th and Capitol this Friday, take a minute out of your day to spend some time with the festive Oly Fed team and to contribute to the work the Salvation Army does in our community. You'll be warmly received.
As Executive Assistant Leanne Marty says, "It's a lot of fun to be out on the street interacting with people. It's great to spread some holiday cheer…and to see people plunking their coins into the box."
Sponsored