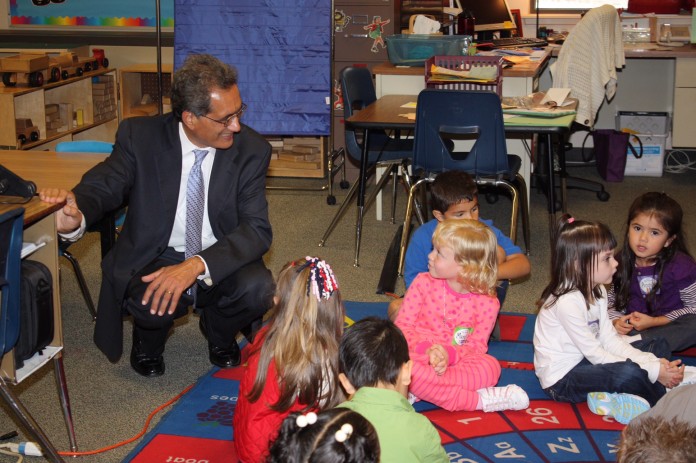 Submitted by North Thurston Public Schools
When Raj Manhas was hired as Superintendent of North Thurston Public Schools in 2009 he was the big fish from Seattle schools who landed in the smaller pond of Lacey, Wash.
"A lot of people weren't quite sure what to make of Raj when he got here," said Courtney Schrieve, Communications and Community Relations Director for the district who has worked closely with Manhas to improve community engagement outside the school walls. "He was this well-dressed business guy from Seattle. He was a former banker. He had an Indian accent. I think he surprised a lot of people."
On Tuesday, that "business guy" announced his retirement from the largest school district in Thurston County during a School Board meeting at South Sound High School.
"We have been truly blessed to have Raj as our Superintendent.  He's the whole package — community leader, financial wizard and systems thinker," said School Board President Aaron Owada. "He has won a lot of respect for our district during his tenure. His leadership has brought the district to a new level in terms of academic progress.  Working with Raj has been a truly incredible experience.  We will miss him, but we are confident in knowing that he has left a legacy and strong foundation for the future success of our students."
Manhas, 67, came to Lacey after leading Seattle Public Schools out of a budget crisis and later helping bring the Dahlai Lama to Seattle for the "Seeds of Compassion" event in 2008. Both jobs exemplify his belief in a balance between the head and the heart. Self-described as "a farm boy from a small village in India," Manhas came to Seattle from India in 1973 to pursue a Master's in Engineering from the University of Washington. After graduation he began a successful banking career before moving into the public sector as Director of Operations for Seattle Public Utilities and then Chief Operations Officer and Superintendent of Seattle Public Schools.
"Working for North Thurston Public Schools has been a true gift," said Manhas, who served on the Thurston County Chamber Board of Directors and received the 2014 Distinguished Leader Award from Leadership Thurston County. He is also a member of Lacey Rotary and Lacey South Sound Chamber, and a current member of the distinguished Community Ministry Board for Providence St. Peter Hospital.
"Raj's leadership, wisdom and compassionate heart is an inspiration," said Medrice Coluccio, Southwest Washington Chief Executive of Providence Health & Services, who worked with Manhas to implement a Healthy Kids, Healthy Community" project for NTPS middle school students using Sqord devices to measure physical activity. "He models our values of respect, justice, excellence, compassion and stewardship in his role as a trusted Board leader."
Manhas noted many things he was proud of during his tenure, including, 2 successful levies, a historical $175 million bond, student achievement growth, increased graduation rates, boundary changes, new curriculum implementation, a compassionate community initiative, fiscal and operational effectiveness, and the whole child focus.
"Raj stood out because of his unique background and personality. I cannot recall a Superintendent with such forward thinking skills who is so passionately committed to the success of the students," said Ken Parsons, a fellow Rotary member and past president of Venture Bank. "The active participation, respect, and enthusiasm from Raj to our students and faculty is unmatched."
"My time here has been incredibly rewarding and it is the perfect place to end my professional career.
I think what I am most proud of is the shift in the culture of our organization and community," he said. "People are talking about us and our student-centered focus, high expectations, transparency and compassion. It is rare in a system where everything falls into place like it has here. Thanks to the hard work of our staff, support of our School Board and community, and wonderful students and families we have much to be proud of in North Thurston Public Schools. I know I leave it in good hands."
The parents of two adult children who live in Seattle, Manhas and his wife Rana plan to move back north in June 2016. He hopes to have more time for reading, gardening, traveling and volunteering. "Lacey has been such a welcoming community and we will always be grateful for our time here and the friends we have made. This place and the people will always hold a special place in my heart."
The School Board will work with a consultant to conduct a search for the next Superintendent, including a public process. They hope to find the right candidate by this spring.