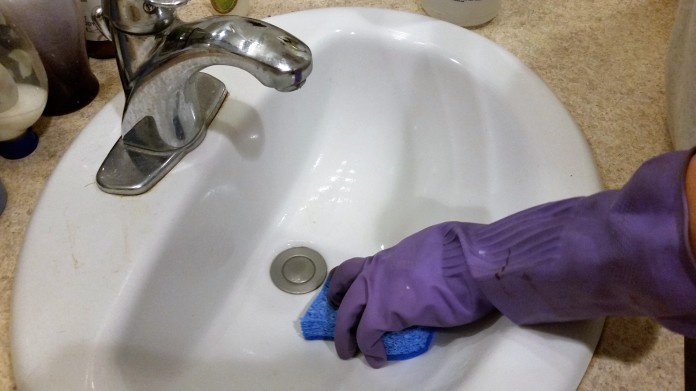 Submitted by Drew Freemantle for Maid Perfect
One of the most common places to find mold is in our bathrooms. Mold needs a moisture, heat and organic materials containing carbon to grow. Our bathrooms provide the perfect environment for mold to thrive.
Preventing Mold in The Bathroom
Eliminate the sources of humidity and moisture for mold to survive.
Make sure that you keep floors, countertops, showers dry because mold can begin to form within 24- 48 hours if the conditions are right.
Reduce the bathroom moisture by drying your clothes right after you wash them.
Get in the habit of always using the bathroom fan.
Check every once in a while for leaky faucets and shower heads.
Reduce humidity by keeping your home well ventilated.
Get a dehumidifier if you have a bad humidity problem.
Three Ways to Get Rid of Mold
Method #1 Vinegar
Fill a spray bottle with white vinegar and spray the tile, grout, ceramic surfaces liberally and let it sit for 1 to 2 hours.
Rinse and scrub the mold with a damp microfiber cloth
Make a paste of 3 parts baking soda to 1 part water and use a stiff toothbrush for stubborn grout. Rinse and repeat if necessary.
Method #2  Hydrogen Peroxide
Put hydrogen peroxide in a spray bottle and spray the affected area.
Leave peroxide on surface for 10 – 20 minutes
Scrub area with a brush
Rinse
Method #3  Borax
Mix one cup of Borax with a gallon of water.

Borax can be found at most stores and is an effective weapon against tough bathroom mold.

use a brush and the solution to scrub the area.
Rinse and dry
These are just a couple of ways to rid yourself of mold but they have worked well for us. If you have any other questions about cleaning please visit Maid Perfect. We love answering questions and we love to clean.