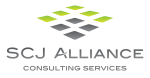 On the bright, cold Friday afternoon before Thanksgiving this year, a group of middle school students and volunteer parents arrived at the Artesian Well in downtown Olympia, carrying bags filled with warm clothes and essentials. Twenty minutes later, members of Olympia's homeless community were posing for selfies with the middle-schoolers while hot coffee steamed and connections were made across vastly different life experiences.
Marshall Middle School students have participated in a "Day of Compassion" exercise for several years, handing out care packages in downtown Olympia.
This year, it was especially inspiring, partly due to a revamped alternative program pioneered this year at Marshall by teachers Thomas Condon and Matthew Phillipy. Renamed the "Citizen Science Institute," the program aims to look intensely at pressing environmental and social issues, while inspiring students to become hands-on learners and active leaders.
"Our goal for this program is to help our students take charge in their learning and to become active, engaged, creative, and compassionate members of our community with a high level of scientific and ecological awareness," says Phillipy. "As a guide in my students' learning adventures, it is my responsibility to provide real-world, authentic learning opportunities so they can apply the skills and concepts learned in class to solve the problems and issues of the world they are members of."
That's an ambitious attitude to carry into a classroom, but as this year's Day of Compassion showed, it's an ambition that can be realized with meaningful results. Throughout the week preceding the Day of Compassion, the students in the MCSI program studied homelessness from a variety of angles. They learned about the causes of homelessness, the populations most commonly impacted, and a wide variety of social issues surrounding homelessness.
The study changed some of the students' impressions of homelessness. As Mika Brownell explained, "You might think of the homeless as being crazy, dirty, and old, but many were healthy and clean and really didn't want to be there." Grace Playstead thought that homeless people lived on the streets, but she was surprised to discover that "many live in outlying areas, like in the forest, because they want to avoid being seen."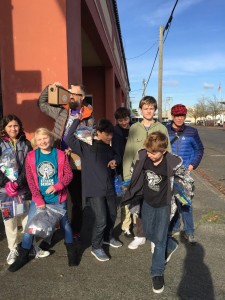 Because the Day of Compassion coincided with Marshall's schoolwide food drive, the students prepared a presentation, in small groups and in the class as a whole. The day of the event, they fanned out across the school, teaching a 20-minute lesson on homelessness in all the classrooms and encouraging their peers to participate in the food drive.
Then all 50 kids, several parent volunteers, and both teachers headed off to downtown Olympia. Mixx 96.1 provided a meeting room for them to congregate in, where they received a lesson from the Olympia Downtown Ambassadors before heading into town to share their care packages with members of the community.
At first there was some trepidation among both the parents and the students. Walking up to any stranger is more than a little nerve-wracking, and there exists an invisible wall between the majority of our society and those among us who are the least fortunate. But that trepidation quickly evaporated. As student Dominique Neely put it, "The people we met were really easy to talk to. Once you started, they were like, 'Hey, how are you?'"
The atmosphere quickly became festive, with parents and students creating a supply chain of care packages. "Someone would shout out a size," parent Jessica Caldwell explained. "We would call it out and someone would have a package in that size." Amid that festive atmosphere, there was true, deep gratitude. Student Owen Schmidtzinsky noted that there were tears in the eyes of many recipients, and he recalled one young man who was only 20-years-old. "He was kicked out by his parents when he turned 18," the student said. "'You're 18. Go get a life.' Now he's homeless."
For the students and the parent chaperones, the experience was inspiring. "I have come away from this event today with a lifted heart and an abundance of joy," Caldwell effused at the end of the day. "I witnessed these young leaders smile and shine as they made a strong difference in our local community."
But while they were making that difference, they were also seeing a chronic condition up close and gaining greater insight into it. "Making the project was really fun," Brownell reflected later. "But it was sad at the same time. It was bittersweet."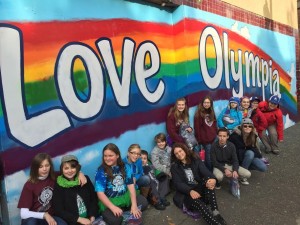 That thoughtfulness is encouraged in the Marshall Middle School program, where the goal is more about long-term engagement than it is about short-term lesson plans. "As a teacher in this environment, the most rewarding thing for me is seeing our students taking pride in their work and witnessing their ownership in finding solutions to real-world issues, from storm water runoff to ending teenage homelessness," Condon says.
To share opportunities for Marshall Middle School students to engage with environmental and social stewardship programs in the local area, feel free to email Thomas Condon or Matthew Phillipy directly.