Nearly 50 businesses in downtown Olympia have decorated their storefronts in hopes of being crowned winner of this year's Twinkle Fest Decorating Contest. But the real winner could be you.
By voting for a favorite display—whether it's Krampus and coal at Spider Monkey Tattoos, solstice and stars at Psychic Sister, classic Christmas at Drees and Selden's, or one of dozens of others—voters are entered to win cool prizes from downtown merchants. Plus, participants have the opportunity to enjoy the beauty, splendor, and creativity of our vibrant downtown.
There will also be a celebration at participating businesses Friday, December 11, where special give-a-ways, activities, and promotions will be happening from 5:00 p.m. – 9:00 p.m. Free cocoa, cider, and snacks will be part of the fun.
"It's going to be a very festive day. I've heard it described as the holiday Arts Walk," says John Foster, program director at Mixx 96.1, who is helping promote the contest. "We're a big supporter of downtown Olympia so we wanted to make sure people know of the wonderful holiday decorations. Oh, and the shopping–I always find the coolest things downtown."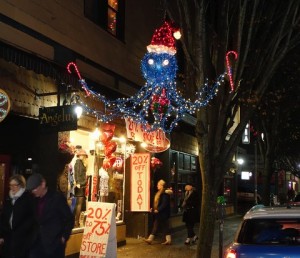 Co-owner of Dillingers Cocktails and Kitchen and Blackbird Mercantile and Trading Company, Sandy Hall, talks about why she chose to include her businesses in Twinkle Fest. "It felt like fun. I know from my own experience, it's fun to go to downtown centers and see different window displays. And it's a great way drive fun and enthusiasm for the holidays, not only for the merchants, but for the customers."
Dillingers' decorations reflect the classic beauty of Christmas, while Blackbird is showcasing the vibe of their lifestyle store, all things pretty and fun.
"It's the holiday season and the people are starting to shop locally," notes Sharon Holley, program manager for Olympia Downtown Ambassadors. "We have that here downtown. We're one of the only cities in the area that has that. It's important for people to enjoy."
"I love this time of year. I wish we had lights every night," Sharon continues. "It's just so festive and inviting and warm, just to see all these displays, they're so unique. And you can grab a bite to eat while you're shopping, like award-winning pie at the Reef.  That  downtown experience is something different than big box stores or the mall."
Sharon also wants to remind downtown visitors to be on the lookout for ambassadors on foot if they'd like directions to a specific storefront, and that more information can be found by visiting the Downtown Welcome Center, located in the Rex Building at Fourth Avenue and Franklin Street.
Voting continues at OlyTwinkleFest.com until December 20, and winners will be notified December 21. The event is sponsored by the PBIA which runs the It's Your Olympia website and represents more than 400 locally owned businesses.