Allyson Reynolds was done with ballet. Sure, she was only 4 years old at the time, but she knew.
Cou-de-pied? Relevé? Échappé? Who needs to learn all that French terminology, anyways?
She had made up her mind right then and there, and lacing up a pair of pointe shoes would not be in her future.
Then, eight years ago, it happened.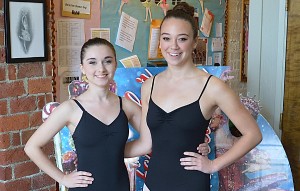 "I saw Sleeping Beauty at The Washington Center and completely fell in love with it," said Reynolds about Tchaikovsky's ballet which centers on a slumbering hexed damsel in distress.
Carabosse's evil spindle-based plot against Princess Aurora may have been thwarted on the stage that day, but it certainly cast the right spell over Reynolds.
Now, with nearly a decade of ballet experience, Reynolds, along with fellow Tumwater High School students Elizabeth Myers and Emily Walter, are the ones taking center stage at the Washington Center for the Performing Arts as part of Ballet Northwest's production of The Nutcracker.
"It's just so cool being a part of the story, making it come to life," Reynolds said about the Nutcracker. "I can remember how magical it was to be in the audience watching it."
The production is a well-oiled machine with the company featuring 70 dancers and the community cast ballooning to well over 140 cast members.
"It's just fun being backstage getting ready with everyone," said Myers, a senior who has been studying ballet for nine years. "It really is a bonding time. You spend hours and hours together in the theater. It's amazing to see it all come together for the first production of the season."
It's the Sunday after Thanksgiving and the three can be found at the Johansen Olympia Dance Center. They sit in a small office/storage room found upstairs. Its 12:30 p.m. and it's one of the rare opportunities they have to enjoy some downtime. Rehearsals are growing more frequent as opening night approaches, some days running from 1:00 – 6:30 p.m.
"What's TV?" one of them jokes when the topic briefly shifts to popular cultural.
It draws a laugh and an acknowledging nod from the other two as all three can completely relate to the statement.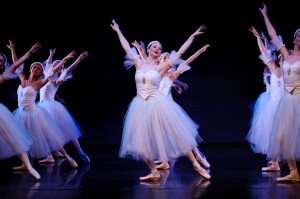 Who has time for television when your day starts at 5:30 a.m. and is jammed with not only ballet rehearsals, but also AP classes, choir practices, national honors society, and an abundance of other extra-curricular activities, which vary from each individual but are all impressive and only add more weight to support the claim that these three overachieve at overachieving.
"I'm a fidgeter. I cannot not be doing something," said Walter, a 15-year-old sophomore, who is both the youngest and oldest of the three – youngest in terms of age and oldest in regards to ballet since she has studied performance dance for 12 years. "I always have to be doing something so I think that helps. Plus, I think we are all super motivated to just do everything."
Reynolds will definitely prove just how true that statement is on opening night as she will be pulling double duty, dancing in the production as well as singing with Tumwater High School's honor choir the Noteables, which will perform before the show and during intermission.
"It's going to be weird, running back and forth," Reynolds said. "I am going to be going from singing to dancing and back again. It will be a busy night, but I really enjoy it. It makes me happy."
The joy is the final byproduct of all the hard work that is required to excel at ballet.
People see the final product on the outside during performances when the grace and elegance are on full display for all to see. Internally, however, it is a different scene. Don't let the tutus or constant smiles sway your thinking. These girls are as tough as nails – fueled by determination and reinforced by strength and toughness.
Ballet takes years to master and is physically demanding. Never doubt for a moment just how athletically gifted these dancers are simply because no one is keeping score.
Reynolds, Myers and Walter each can share similar stories of the intense difficulties during their first pointe attempt and sure, there were times when each one entered thoughts about quitting, but those impulses were quickly squashed.
"Last year it was particularly hard. I was taking three AP classes. Trying to balance that with rehearsal time was difficult," Myers said, "but I decided to stick with it. You have to have a passion for it. You have to love it so much."
And beginning December 11, among the Sugar Plum Court, Mice, Cavalry and Licorice, that passion will be on displayed.
"We have a lot of people come see us perform, but when you have your friends and family there, even though there's already a million people there it gets you more excited," Reynolds said.
Added Myers, "I think it also shows them how much hard work you've put into it and why you've been missing from so many family events."
Ballet Northwest will have eight performances of the Nutcracker at The Washington Center beginning with a 7:30 p.m. show on December 11. Additional 7:30 performances will take place December 12, 18 and 19 with 2 p.m. performances on December 12, 13, 19 and 20. Tickets are $14 – $30 and can be purchased www.olytix.org.