Shopping season is here. Although I try to be mindful of the real spirit of the holidays, my list remains and there is shopping to be done. And, if I'm honest, I love it. I love to give to others and the holiday season gives me the perfect excuse to do so with wild abandon.
I admit, there will be online shopping. There will be purchases at big box stores. There will be free two-day shipping. However, there will also be deliberate shopping at small businesses throughout Thurston County. Because, I believe if I want my town, my home, to become a better version of itself, the real answer lies with me.
I will trade my red cup for Batdorf blue. I will bundle up and beat the streets. I will not need a membership and there will be no need for shipping.
The kick off to the shopping season is typically Black Friday. With many retailers opting out, or joining the #OptOutside movement started by REI, focus shifts to shopping small. Following Black Friday is Small Business Saturday. Started by American Express in 2010, the day's hashtag #ShopSmall encourages people to purposefully spend their dollars at local merchants, supporting their local economy, making their hometowns a better place. In 2014, support for the movement generated an estimated $14.3 billion dollars at independent businesses on Small Business Saturday.
In its fifth year, the shop small movement has more support than ever and in Thurston County, we have a multitude of options.
Grab a friend, and your wallet, and set out this Saturday to #ShopSmall, because each person who strolls the streets and spends their dollars says, "I care about where I live and I'm doing something to make it better."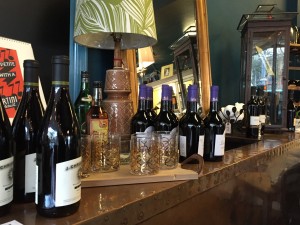 Your spending not only keeps shops open with stocked shelves, but allows owners to re-invest in improved storefronts and community events, building us all up in the process.
Inspired? I hope so. For gift list inspiration, hit up these fantastic local merchants throughout our area. And don't forget to eat small, too, and grab lunch from one of our tasty local eateries.
Downtown Olympia – It's the heart of our town, and our state, and houses the highest concentration of unique, independent stores around. Plus, it's my favorite place to shop.
The ladies at Compass Rose know the store inside and out and can direct you to to the perfect gift for whomever is on your list (and whatever your budget).

Compass Rose – This newly re-designed space is sleek, sophisticated, and a little bit irreverent. Find the perfect piece of handcrafted jewelry, unique cookbooks, quality handbags and scarves, or some of their fantastic housewares. Don't miss their gorgeous barware, too.

Popinjay – Looking for a special keepsake ornament, unique holiday card or perfect décor? This is the place.
Archibald Sisters – If you don't shop here annually you are missing out. From the zany to the zen, there is a little bit of everything. Stop here to find gear sharing a love of Oly along with gag gifts, stocking stuffers and a massive custom lotions and potions section.
Drees – Ruthann Goularte thoughtfully selects items for her gift shop.  Suitable for everyone your gift giving list, Drees has been a tradition in downtown Olympia for over 85 years.

It's never boring at Captain Little! Let the knowledgeable staff guide you to the perfect pick.

Captain Little – Shopping in this store makes you want to be a kid. The carefully curated toys, books, crafts and clothes will create joy for anyone on your list. There are even awesome options for adults (including the best selection of Klean Kanteens I've ever seen).

Blackbird Mercantile – Snugly at home in the old Red Door space, Blackbird carries on the tradition of affordable decor and home goods while adding sleek, sophisticated barware and wines. It's an entertainer's mecca.
Radiance Herbs and Massage – If you think Radiance is all about natural remedies and herbal tinctures, you are mistaken. While the shop can help with most natural health needs, they also carry fantastic hats, gloves, and scarve, an extensive baby section, and terrific yoga supplies. If you haven't been in a while (or ever) stop in. You'll be surprised at the variety and quality inside.

A rainbow of natural candles are available at Radiance Herbs and Massage.

LOLA Lifestyle Boutique – For the trend setters on your list you can't go wrong at LOLA. Their high-end styles and swanky interior might make you feel like you are shopping in "the big city" instead of our sweet, little town.

Browsers Books – While I love my Kindle as much as the next person, I also love the feel and smell of a real book. Browsers has been around for 80 years, but new owner Andrea Griffith has breathed new life into the shop. Grab nearly perfect used books for a song and trust Griffith's advice for the perfect book for the readers on your list.
Olympia Supply Company – Dip down below Capitol Way and hit up Olympia Supply for the handyman or gardener on your list. I challenge you to come out of this true neighborhood hardware store empty handed.
Westside Bestside – The Westside isn't just for the mall. Dig a little deeper and find a few small business gems on this side of town.
Bon Lemon owner Amy Evans takes a cue from Oprah with her "Favorite Things" shelf. She explains, "The little luxuries are what life's all about."

Bon Lemon – Shop proprietress Amy Evans is ready for you. She's stocked her charming accessories boutique with affordable, unique finds perfect for just about anyone on your list. And they wrap. And sometimes drink champagne. And let you make a wish list. It's my husband's favorite store (for me, of course). The shop is featuring great sales, too. Check their Facebook page for details.

Industrie Clothiers – Just next door you'll find a mecca of designer clothes offered at a discount. Locals seeking fashion forward wares need to look no further. And they have men's clothes too.
Bark and Garden – This mainstay in the local home and garden scene offers a ton of options for nature and garden lovers on your list. From the perfect work gloves to gorgeous pots and yard art, it's my go-to for my mom who wants to spend all her time in the garden.
Tumwater
Thompson's Furniture – If you haven't ventured into this Capitol Way favorite (near Trosper Rd.) you are missing out on terrific holiday décor, beautiful housewares, jewelry and accessories, and yes, furniture.
The Gift Gallery – Tucked into a strip mall near Capitol and Trosper, The Gift Gallery is a browsing delight full of handmade goods from local artisans. Think of it as a holiday bazaar with regular, year-round hours.