By Mary Ellen Psaltis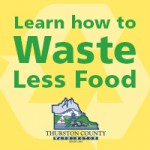 If I gave you a quarter for every dollar you spent on food, would you be interested? My ears certainly perk up at that thought. This translates to approximately $130 to $230 per month per household, according to Gabby Byrne, who heads the Waste Less Food Program for Thurston County Solid Waste. According to Byrne, we throw away 25% of the food we buy. That's a significant amount of food, especially when many people experience hunger or food scarcity. With the holidays upon us, you might be hoping for a few ideas to reduce waste and fully use what you've bought.
First, Byrne recommends that you create a menu plan. "Be sure you plan for leftovers," she reminds us. The time you invest counting the number of guests and needed servings will benefit you with measurable results. Usually the holidays mean we prepare extra dishes, which means everyone could be perfectly satisfied with a slightly smaller portion of each item on the menu.
Byrne recommends having plenty of clear, easy to label, containers on hand to pack up leftovers.  Fill some to send home with guests and put the remaining leftovers in the refrigerator. Extend the storage options by using freezer-friendly packaging.
Of course, someone gets to do all of the food shopping first.  I recommend checking off grocery items in the bulk food section of your favorite store.  Prices are competitive and you only buy what you need.  Bring your own containers to the Olympia Food Co-op, for example, and fill up on dried fruit, nuts, and dried beans for your favorite holiday recipes.
Both of Stormans' grocery stores, Ralph's and Bayview Thriftway, have aisles of food, but this time of year they squeeze in many specialty items: cheeses, fudge, wine, local mints and stylish housewares. Both stores carry many locally sourced products.
Another creative way to waste less food is to have tortillas handy.  I find that most of us are willing to roll just about anything into a burrito – the last piece of turkey or bit of salad, a tidbit of this or that which might have easily been thrown away. Slather the filling with salsa and presto – an A+ lunch.
What could be considered an amount "too small to save" can also be tossed into your soup pot, adding flavor, nutrients and lightening your final garbage load.
When it comes to breads, sweets and treats simply imagine what you want, and there's a baker nearby to fulfill your heart's desire.  Your holiday table will look complete with a pie or cake from Back Door Bakery.  Alison Kloft's Lacey bakery is already accepting pre-orders for holiday delights.
Gotti Sweets imaginative, specialty cakes bring a smile to any face. Pumpkin will be baked into pies, rolls, cookies, bread, cheesecake and even in the famous pie-tots, a pie in a bite. Instead of a single falvored pie, purchase a variety of pie-tots. If you are fond of macarons, the French inspired sandwich cookie, you can go crazy with the abundant colors and matching flavors. Later in the season pick up a sugar cookie tree, which is a frosted, decorated stack of cookies.
Phoebe's Pastry Café is also gearing up for the season. Owner Phoebe Martinson's eyes twinkle as she thinks of her holiday offerings: chocolate cake with peppermint mousse, layered pumpkin pecan pie and Yule logs with outrageous edible decorations. Her husband, Dan, has smoked the salmon for her delicious dip. Another option is the crab artichoke dip. There's even cranberry relish. Pre-order your holiday delights.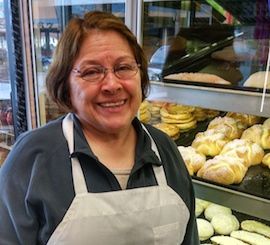 For another style of holiday fare, go to Julia's Bakery and Café on Martin Way in Olympia. Julia de la Cruz has cakes for all occasions. Select a Mexican pan tres leches (three milk cake) or cookies that are less sweet than typical commercial bakeries. Jose Brajas, long time baker at Julia's, has pumpkin and banana breads ready and there are tamales for sale in three flavors – jalapeno and cheese, chicken and pork. The café also carries a good supply of Mexican spices and dried chilies.
It's the feasting season with turkeys browning and tables of festively decorated cakes and cookies. Smells like yeasty cinnamon rolls baking tease our saliva glands and wake up memories of seasons past. I like Byrne's philosophy that "what's important is that we are together." Food is essential, but it's not the whole picture. Honor the time, effort and money spent on all your goodies and make sure they end up in someone's stomach – or wrapped up the freezer for another splendid meal.
You can download your own booklet of tips and tools to waste less food from Thurston County Solid Waste's website.  Check out their trivia giveaways on their Facebook page. Byrne is also available to give presentations to small groups.
Eat Well – Be Well