Submitted by Rob Rice Homes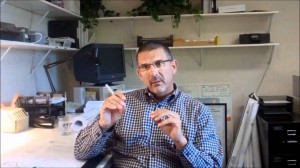 Rob Rice, Thurston County's largest local home builder, designed, built and donated a mobile chef's kitchen to Saint Martin's University for use by the cast of ABC's The CHEW, the special guests at the local institution's recent annual black-tie Gala. Rice worked on the design specifications for the kitchen with the Bon Apetit chefs who made the meals for the 700 Gala attendees. The event raised $1.6 million for Saint Martin's students, the most in its ten year history.
With the help of employees and a finish carpenter, Rice built the kitchen in the garage of one of his new homes in the community of Chestnut Village and transported it himself to the event location at Saint Martin's. In the weeks before the event, he worked with the Lacey Fire Department to ensure the kitchen was up to code and he travelled to Kent several times to lock in a precise template for its countertops.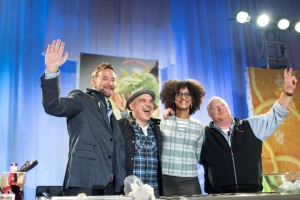 The 12-foot long structure, used on the stage by The Chew chefs at the November 7, 2015 Gala, has quartz countertops, an all-gas GE Monogram 6-burner cook-top, with double-ovens—secured through McKinney Appliance Center in Lacey—and is mobile, designed to be dismantled in two parts for easy storage. The kitchen cost Rice $17,000 in supplies, equipment and hired labor with no out-of-pocket expenses for Saint Martin's University that now owns the kitchen for use at future Galas.
"This was not only a large donation, it was an incredible effort to benefit our community," says Valerie Fluetsch, event planner and owner of Event Planning Specialist, LLC who organized this year's 10th Anniversary Gala. "He built it with the same attention to detail and quality products as he does for all his homes. The event provides a large portion of scholarship funds to Saint Martin's students – this year nearly $1.6 million. And, the school now owns a beautifully-built piece for future Galas, a huge bonus to our annual efforts for the next ten years."
Rob Rice was has been building homes and communities in the South Sound for more than 30 years. His company, Rob Rice Homes, was voted the Best of South Sound for the last two years by The Olympian readers. Rob and his wife Helena are regular contributors to the University and he explains his motivation for delivering a premium custom kitchen for the Saint Martin's event.
"My wife and I feel it is our responsibility to give back to our community to make it a better place for our family and for those in the communities we build. A few years back, we identified two top priorities—rescuing animals and improving the lives of children. This certainly qualifies as something that contributes to the second, a superior education for our kids."
To learn more about Rob Rice Homes, visit www.robricehomes.com.