By Gail Wood

Sometimes the difference between winning and losing isn't just about how athletic a team is. It's also about how adaptive they can be.
Olympia High School's volleyball team was a textbook example of adapting this season. Half way through the season, Lydia Soto, a senior, switched from middle blocker to outside hitter, a position she hadn't played since she was younger.
But she took the switch and the challenge without complaint.
"It was a big deal for her to be willing to make that switch," Olympia coach Laurie Creighton said. "I'd describe Lydia as a baller. She just has lots of volleyball skills and smarts."
It was that team-first mentality that sparked Olympia's late-season surge. Add the dominate play of senior setter Julie Fleener and junior outside hitter Lauren Wilson – two first-team, all-Narrows League picks – and the Bears became an opponent's worst nightmare. In two straight matches at district, Olympia played five-set matches. After beating South Kitsap 3-0 and losing to Tahoma 3-1, Olympia beat Kent Meridian 3-2 and then lost to Puyallup 3-2 after leading the fifth game 10-5.
Wilson and Fleener, who both started last year, were two key players all season long. After playing back row most of her sophomore year, Fleener became the Bears starting setter last season and shifted to a team leader.
"She's very focused and an intense competitor," Creighton said about Fleener. "She set the bar high for effort and stayed ocused at practice. She did a good job of bringing that intensity level."
As a setter, Fleener didn't only have to be athletic. She had to be a leader.
"The setter is very much like the quarterback or the point guard in basketball where every play goes through their hands," Creighton said. "So, they not only have to be athletic but also be able to perform the skill consistently. It's a pretty big deal to be able to put up a hittable ball for your attackers every time."
But it also requires a certain mindset to be energized yet calm to be able to distribute it appropriately.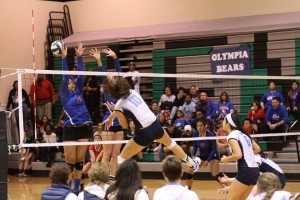 Wilson, after playing primarily middle blocker for her club team, dominated at outside hitter for the Bears.
"She's really stepped up and owned that role this year and kind of carried a lot of our offense, especially early in the season until some other folks started to bring their contribution," Creighton said. "She jumps well. She's a state competitor in the high jump. She's a smart player and sees the court well and she made a huge contribution this year."
As team captains, Wilson and Fleener are both leaders on and off the court.
"Both are vocal," Creighton said. "Lauren has grown to be more vocal on the court through the course of the season. But they're both very intense competitors. Both demonstrate their leadership through action and words. And I think that's important."
They don't just lead by example. They're both encouragers, telling their teammates to work hard.
"You can have a leader who isn't very vocal," Creighton said. "But I think it's a pretty big deal to have leaders who are both leaders by example and leaders vocally."
Despite her position change, Soto still earned honorable mention all-league. Soto, another key figure in the Bears success, had the skills to play several positions.
"She has good hands. She could have played setter," Creighton said. "She could play any position on the floor. I was happy to see her be recognize as part of the all-league team."
When Soto switched to the outside, McKenna Neal, a senior, also switched positions and filled in at middle blocker.
Maddie Reeves, a 6-foot senior, also earned honorable mention all-league for the Bears. For the second straight year, Reeves played opposite from the opposing setter.
"I was pleased to see her gaining confidence this season," Creighton said. "She really stepped up and contributed from the defensive perspective. She was a difference maker. She was instrumental in our success."
The Bears relied on experience this season. Five seniors started at some point during the season. They were Kiley Schwartz, Neal, Soto, Fleener and Reeves.
Even with a senior laden team, Creighton is already excited about next year. She has two big reasons to be optimistic. Two freshmen – Camryn Wilson (Lauren's sister) and Molly Armstrong – started at some point during this season. Armstrong came up from the junior varsity and ended up starting on the varsity at libero.
"You don't see that very often as a freshman," Creighton said. "Molly and Camryn will be key contributors next year."
And the Bears will have something to build on next season.