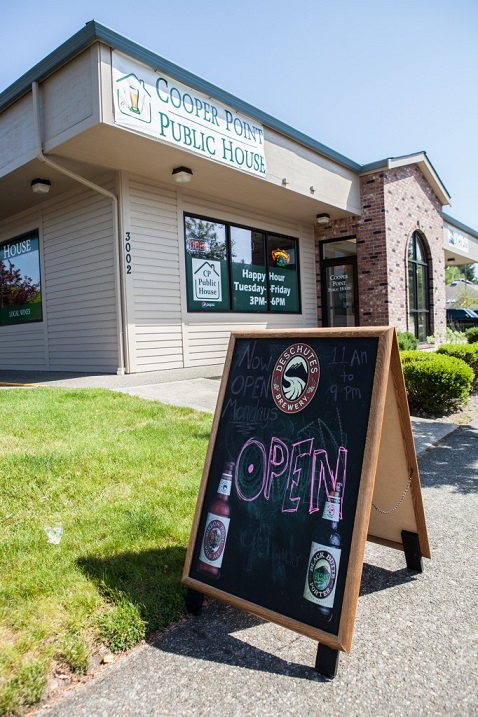 Across the globe, few places are as welcoming as your neighborhood pub. "One of my beliefs is that there are certain institutions within a community which stand for the spirit and heart of that community – there's the church, the local football team, the local pub and the theatre," says Starsky and Hutch actor, David Soul.
Whether you're watching the Seattle Seahawks or stopping in for a quick homemade meal, the Cooper Point Public House in West Olympia always provides a warm, family-friendly welcome.
Offering breakfast, lunch, dinner menus and an array of mouthwatering beers from across the region, Cooper Point Public House is a family-owned and operated community hub. Husband and wife owners Sam and Melissa Rasmussen worked together in the restaurant industry for 10 years before starting the pub with Sam's mom Cathy.
The building's 3002 Harrison Avenue location is part of the Steadman Properties holdings and echoes Michael Steadman's passion for local, small, family and veteran-owned businesses.
Sam and Melissa live nearby. "One day at random I stopped by to peek in the windows and ran into Steadman," recalls Sam. "We started talking about the possibility of leasing it; I spent the next several months writing a new business plan for this space before deciding we wanted to go for it."
"When I called Mike, he was very interested in having a small, family business in his building and we met and worked out a lease in his living room over coffee, just the way both of us would prefer to do business," he adds.
But don't write the pub off as just another bar. A larger purpose was written into the Rasmussen family's heartfelt endeavor. "We named our business after Cooper Point because we wanted it to be part of the community. We made it a public house so people could feel free to use it for their own needs: business meetings, charity events, get-togethers, or just a casual night out with good friends. We focus on using quality, non-GMO products, and are constantly adding more locally produced items," explains Rasmussen.
As with so many of Steadman Properties other clients, Sam continues to become a vital part of his neighborhood. "We love our location and our neighbors and look forward to growing with the help of a quality landlord like Mike," says Sam. "He truly cares about our business and is always offering to help with any problems we may have. He knew we were a risk being small but he took it anyway."
Follow the Cooper Point Public House on Facebook where they list daily food and drink specials like jambalaya, all-you-can-eat fish and chips, and a new pizza delivery program slated to begin in January 2016. Their website lists hours, directions, and menus galore. Happy hour is from 3:00 to 6:00 p.m. Monday through Friday and 8:00 to 10:00 p.m. on Saturday and Sunday.
These days it's a treat to find that wonderful combination of good food, family-friendly, local, and community-minded. Find all that and more on your next visit to the Cooper Point Public House.
Call Sam and his team at 360-915-7880 with any questions.
Cooper Point Public House
3002 Harrison Avenue in Olympia
Hours:
Monday – 11:00 a.m. – 9:00 p.m.
Tuesday – 11:00 a.m. – 9:00 p.m.
Wednesday – 11:00 a.m. – 10:00 p.m.
Thursday – 11:00 a.m. – 10:00 p.m.
Friday – 11:00 a.m. – 10:00 p.m.
Saturday – 9:00 a.m. – 10:00 p.m.
Sunday – 9:00 a.m. – 9:00 p.m.