By Lynn West

"Go Team Logan" is a chant that can be heard around the track at Tumwater Hill Elementary School. Logan is a smiling fifth grader, who 2.5 years ago developed Leigh syndrome, a mitochondrial disease that has made him wheelchair bound.
The diagnosis hasn't kept Logan from running.
Serious runners value the sport and want others too as well. When Chris Jenson, currently Tumwater Hill's PTA president, volunteered to push Logan around the bumpy track last spring at the Fun Run fundraiser, he knew he had to help Logan really enjoy running rather than just moving along a rutted track. He needed a specialized running chair, and it would take a team of runners from all over the country to lead Chris to our local chapter of Ainsley's Angels.
When I met Chris at Tumwater Hill recently, he was wearing his Boston Marathon 2014 sweatshirt over his pink Ainsley's Angels shirt. Obviously these two shirts symbolize proud accomplishments for him.
Chris had never heard of Ainsley's Angels until he began to help Logan.
Over the summer, Chris said, "I began by contacting Team Hoyt, a father and son running duo, who are known for their support of disabled athletes. Dick Hoyt and his son, Rick, who has cerebral palsy, have competed together in marathons and Iron Man triathlons for many years." Dick Hoyt knew just what Chris Jenson needed – an introduction to Ainsley's Angels.
Ainsley's Angels – Story Similar to Logan's
Sarah Poppe had recently started the Washington Chapter of Ainsley's Angels, when she received an email from the founder of the organization, Kim "Rooster" Rossiter. She had worked with Rooster at the headquarters of the organization in Norfolk, Virginia. The email began, "Do you know where Tumwater is? If you do, a fellow there named Chris Jenson needs your help."
It was serendipitous for Chris and Logan that Sarah had been Rooster's friend when she lived in Norfolk and wanted to carry on his organization's work in Washington. Ainsley's story is similar to Logan's. She was not diagnosed with Infantile Neuroaxonal Dystrophy (INAD) until 2007 when she turned four years old. Rooster saw a big smile on Aisley's face when he pushed her in a race, and knew other children had to have the same opportunity, even if their parents were not runners.
Inclusion in endurance activities for disabled athletes became his mission. As a Major in the Marines, he had a tight knit group who initially came to his aid.  Ainsley's Angels grew first at a regional level and now helps athletes nationwide.
Chariot Riding for Logan
Sarah said, "We call these adaptive racing chairs 'chariots' just as the Greeks did in their Olympic games. They give the competitive ability for a runner to endure a 5, 10, or 15k race." The Washington Chapter of Ainsley's Angels currently has five chariots they loan to runners like Logan. For now, Sarah believes the five chairs are sufficient, but the requests keep coming. "The Lewis County Spouses Club, the Madigan Foundation and CrossFit Olympia have helped us so much with fundraising," she said. "And as you can imagine those 'chariots' are extremely expensive, but so worth every penny."
"We appreciate all Chris has done, going above and beyond for Logan," said Logan's mom, Brandy, who is not a runner herself.  "His very outgoing, awesome relationship with Logan makes them a happy team. By pushing Logan, he is doing something I couldn't."
Brandy described her ten-year-old as a happy, "go with the flow dude" who has adapted so well to his life.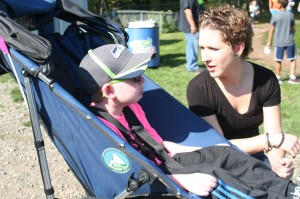 Logan's fifth grade teacher, Corey Nunlist, also a running enthusiast, began the Recess Running Club at Tumwater Hill. Chris joins him often to help the younger students. Corey said, "Chris' exuberance brings out the best in Logan and gets him moving."
Logan was busy playing catch with a group of eight classmates when we approached him for a picture during a recent recess. "I really like racing with Chris, but I like playing ball too," he told me.
Logan and Chris have participated in a few local races, but his mom said, "It is hard for Logan to do early races because he needs a great deal of sleep. We work with Chris to find races that begin later in the day."
Chris agreed and said, "Logan has so many friends. He certainly doesn't let his condition define him."
Logan's smile is as contagious as Chris' passion for running. They are a great team! If running is in your blood, consider helping a "chariot rider" enjoy your favorite endurance sport. Contact Sarah Poppe at Ainsley's Angels to offer your support.