Submitted by The Washington State Archives
The Washington State Archives, a department of the Office of the Secretary of State, is celebrating Archives Month throughout October. This Saturday, October 24th, from 10:00 am until 2:00 pm, Archives staff will guide visitors into areas not normally accessible to the public: the underground vaults of the State Archives Building located three stories below the Capitol Campus at 1129 Washington St SE in Olympia.
The Vaults
168 years of Washington Territory and State history are held in controlled, environmental conditions designed to lengthen the lives of these one-of-a-kind paper records. Various types of audio and video tape, photographic prints and negatives, motion picture film, microfilm and other media have their own preservation needs. The Archives also features compact movable and compact shelving units to maximize the amount of records held.
The State Archives' collections of historic records include more than 300 million documents, 50,000 maps and architectural drawings, 500,000 photographs and thousands of video and audio recordings.
Bridges Highlighted
This year's Archives Month theme is "Bridging Washington" in tribute to the historic bridges of the Evergreen State. Bridges have played a crucial role in Washington history. They helped settle different parts of our state and connect these parts so that we can travel quickly and easily over waterways that once would have required a boat ride. People take bridges for granted, but without them, the population and economic growth of the Pacific Northwest would not have been assured.
The Deception Pass Bridges. "Galloping Gertie." Hood Canal Floating Bridge. The Alaskan Way Viaduct. The Columbia River Bridge at Wenatchee. Many of these iconic bridges have original records here in Olympia, including engineers' field books of the original Narrows Bridge, construction photographs for the Lake Washington Bridge, and the 1965 analysis on cross-sound bridge crossings in an attempt to replace the ferries with a series of bridges.
Through the month, the State Archives will be featuring historic bridges on the Washington Archives Month Facebook page.
This Saturday at 11:30 am, the State Archives will welcome bridge engineer Bob Krier and WSDOT Historian Craig Holstine to explore the historic bridges from their book Spanning Washington: Historic Highway Bridges of the Evergreen State.
In addition to bridges, Archives staff will present talks on "Managing Your Electronic Records" (10:30 am and 1:00 pm) and "Genealogical Resources at the Archives" (11:00 am and 1:30 pm).
Celebrating Archives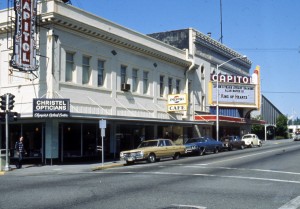 The purpose of Washington Archives Month is to celebrate the value of Washington's historical records, to publicize the many ways these records enrich our lives, to recognize those who maintain our communities' historical records, and to increase public awareness of the importance of preserving historical records.
What is an Archives and who are Archivists?
At the heart of every state archives is a single, simple proposition: democracy depends on government transparency and accountability. Archives have been established in every state because Americans believe that it is their right to know what their government is doing and to hold them accountable for their actions. Archives are responsible stewards of government records and information. Archivists help determine which record must be kept and how long they should be held. Archives guarantee open, timely, and unobstructed access to records. Archives are the institutional memory of government and serve state legislators and agencies, local governments, genealogists, students and teachers.
1129 Washington St SE, Olympia, WA 98501
360-586-1492