By Kathryn Millhorn

No matter your stance on pumpkin spice, jumping in a pile of leaves, or the return of sweater weather, October is an exciting, vibrant month. Autumn routines have taken root, days are (mostly) still colorful and bright, and the temperature fluctuates between balmy and brisk.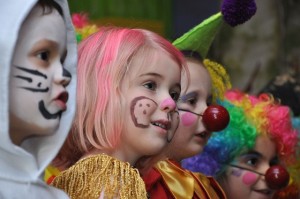 For parents though, darkening evenings and hectic schedules make Halloween tricky. Older children can still enjoy neighborhood trick-or-treating, but younger ones do better at an indoor, organized event. This year everyone wins at the Hands On Children's Museum annual Boo Bash.
Since it started 17 years ago, the Boo Bash is a fan favorite for Museum staff and guests. Communications Manager Jillian Henze is excited about this year's theme of 'Scales and Tales' where they'll offer "face painting, creepy crawly live bugs, pumpkin beanbag toss, apple pressing for cider, glow-in-the-dark silkscreening, spider wands, black light room, cupcake decorating, family photo booth, and animal bones to investigate."
Last year's Boo Bash was their biggest yet, with more than 1,100 attendees. This year she encourages parents that "while there are many fabulous fall festivals in our area, ours is unique because it features festive activities for kids that highlight science, technology, engineering, art, and math learning."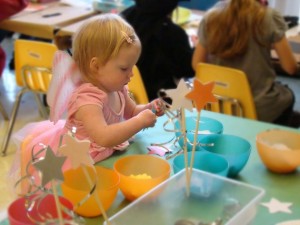 Some of these STEM-based learning opportunities include interacting with live bugs, touching real animal bones, and "shattering stuff with liquid nitrogen," laughs Henze.
There will also be door prizes offered every 30 minutes and take-home photos from the on-site photo booth. Crafty souls can build scarecrows and magic wands while foodies enjoy the fruits of their labor literally, sampling fresh squeezed apple cider and hand-decorated cupcake treats.
Boo Bash takes place on Saturday, October 24 from 12:00 p.m. until 5:00 p.m.
Pre-registration for Boo Bash is recommended.  Reservations can be made online or by calling or visiting the Hands On Children's Museum front desk at 360-956-0818. Current members or families purchasing memberships that day receive an extra hour of fun with entrance at 11:00 a.m.
Boo Bash is $8 for member children or $10 for non-member kids. Adults – your admission is free with your family membership or $4 for non-members.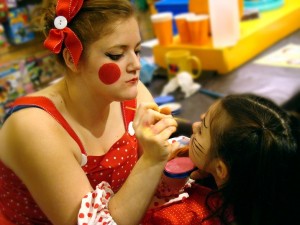 The National Retail Federation reported that more than 46% of Americans will decorate their yard for Halloween and 45% will wear a costume. Even if you're not one of the 14.3% who dress up their pet for the big day, save time, money, and frustration by bringing the family to this year's Boo Bash. It's one stop shopping for all your Halloween fun.
The Hands On Children's Museum is located at 414 Jefferson Street NE on Olympia's waterfront. Follow HOCM on Facebook for additional details, event specifics, and up-to-the-minute info and activities. Call 360-956-0818 with any questions.
Thrifty Thurston highlights inexpensive family fun in Thurston County. The weekly series focuses on family-friendly activities throughout our community. If you have a suggestion for a post, send us a note at submit@thurstontalk.com. For more events and to learn what's happening in Olympia and the surrounding area, visit our complete event calendar.