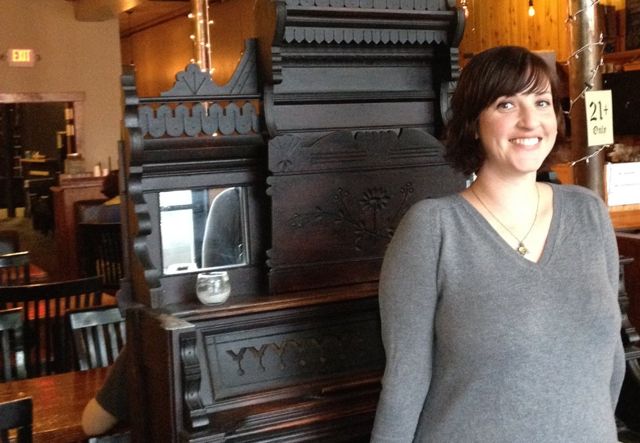 By Nikki McCoy

Her hand is steady as she places wisps of the deceased woman's hair behind an aquamarine stone. The strands, gracefully arched, are now visible through the water-colored gem, complementing the round silver setting.
The jeweler is Angela Kirkpatrick, owner of Wisp Adornments and advocate for all things post-mortem, especially modern memorial keepsakes in the Victorian fashion, often referred to as memento mori. Her custom, handmade designs incorporate hair, teeth, and cremated ash remains of loved ones.
"I think having a visceral reminder of a person or a pet you lost is comforting," she says. "It's like having a little piece of them that you can carry around."
The necklace she wears most often is a citrine and labradorite stone set in a honeybee-shaped pendant. It holds her grandmother's hair. "I know when I wear it; I am reminded of her more often. And for me, that's attached with happy memories, so it's a way to honor her memory and it makes me feel better at the same time."
She also creates keepsakes for the living, a lock of baby's hair or a first tooth for example, or a lover's knot, where she entwines the hair of the deceased partner with the hair of the living (or both deceased or both living), and encases it behind stones. Wearing children's teeth (especially with coral) is supposed to be good luck, says Angela, a tradition that dates back to Queen Victoria.
The most unusual request she's received? To design a piece showcasing an umbilical cord stump.
Angela's choice to extend her silversmith skills to include keepsakes came from the loss of a friend's beloved dog, where pressing ashes into diamonds would cost upward of $10,000. So Angela offered a custom, beautiful, and more affordable solution.
The fascination with antique culture and jewelry, however, began as a child. "I've always loved old stuff. I used to watch Antiques Roadshow with my grandma all the time," she laughs.
Angela's reach is international, with many clients in England, and she is the exclusive jeweler for Undertaking LA, a progressive funeral home in Los Angeles.
"Angela's jewelry really does have a timeless quality to it. It's simple and elegant, and you can tell it is well made," says Caitlin Doughty, owner of Undertaking LA and creator of the web series Ask a Mortician. (Check out Angela's episode here.)
She continues: "I can't tell you how many times someone has said to me, 'I wish I had known when my mother died that taking a lock of her hair was even possible. It would mean so much to have that little piece of her.' When you see Angela's jewelry, it inspires people to take that extra step and save that lock of hair or that bit of cremated remains. And I guarantee they will be happy they did. It does so much to have a memento mori keepsake after a death."
Angela is also a member of The Order of the Good Death (founded by Doughty), who according to their website, are a "group of funeral industry professionals, academics, and artists exploring ways to prepare a death phobic culture for their inevitable mortality."
"I think Western culture, in general, is really horrible at acknowledging death," explains Angela. "Acknowledgment is not happening, and when it does, we don't have a lot of grieving rituals – so people are expected to go back to work right away, are told to 'just get over it,' and there are not a lot of places to just talk openly about feelings around death."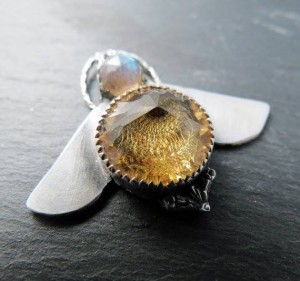 This leads to another of her projects – Death Café Olympia, a local chapter of Death Café, a global nonprofit model where "people, often strangers, gather to eat cake, drink tea, and discuss death."
Open to the public, Angela describes the meetings as comfortable, and says discussion is always open format. There are no agendas, there are no speakers. Topics tend to range from things like paperwork and advance directives to personal grief rituals. She also plans to enrich the café by developing a system for people to share resources, from book lending to finding grief counselors.
Death Café Olympia takes place the last Wednesday of every month at Obsidian in downtown Olympia.
Also keep an eye out for Death Café's Day of the Dead event and fundraiser for the Crisis Clinic of Thurston and Mason Counties. The celebration, which includes punk band Annapura (Mexico City), an altar for sharing photos of deceased loved ones, and traditional face painting, happens Tuesday, October 27, 9 p.m. at Le Voyeur in downtown Olympia.
"I think holding space for people who are grieving is a really good thing to do," says Angela. "A lot of times in our culture we want to say things that just fix it, but there really isn't anything we can do but listen."