By Eric Belgau

If you happen to be wandering along State Avenue near Chambers Street in East Olympia next summer, you'll find a long stretch of fence bursting with berries, vegetables, and fruit. Go ahead and eat some. Thanks to an alliance of volunteer groups and Eastside Urban Farm and Garden, it's free for the taking.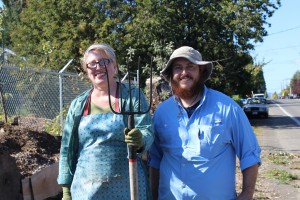 When Brighida deVargas opened Eastside Urban Farm and Garden a year and a half ago, part of her vision was to show how good earth, good plants, and good intentions could rehabilitate a derelict, urban environment. It's in keeping with her greater ambition to "help improve the food resilience of the community" by building a thriving ecosystem, not just a store that sells rabbit hutches and potted plants.
The site she selected – the old Curtis Lumber building on East 4th Avenue – left a lot to be desired in the beauty department, making it the ideal canvas. She set about creating a master plan for the site.
At the same time, local veteran Matt West was looking for a project space for the Veterans' Conservation Corps (VCC). The purpose of the VCC, as Matt explains it, is to "get vets working in environmental projects as a form of eco-therapy, which helps in the transition from military to civilian life." In Thurston County, the VCC is active in prairie restoration and building farms, as well as numerous other volunteer projects.
Brighida approached Matt about getting the VCC involved in rehabilitating the Curtis Lumber site, and the seed of what is now happening on State Avenue was planted.
In addition to being passionate about food resilience, Brighida is passionate about hedges. She spent several years working in landscape design in the UK, where hedges are a common solution to a variety of problems, from privacy to water management. And she came to believe that edible hedges – dense rows of diverse, food-bearing plants – could be incorporated into America's urban landscape in a way that would benefit both people and the environment.
The biodiversity inside a hedge makes it more resilient than single-crop agriculture. Like an extremely dense "forest garden," the hedge is less susceptible to pests, and beneficial insects tend to thrive in it. And because it is so dense, a food-producing hedge can provide a substantial amount of nutrition in a small amount of space.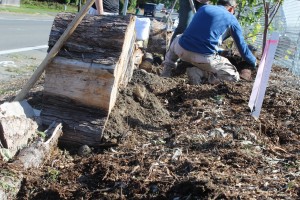 "We hope it will provide a source of food," Brighida says, "as well as an opportunity for us to teach about horticulture in a valuable, hands-on way."
Getting the project going wasn't without its obstacles. First, the property is a brownfield, with pollution from decades of operating machinery embedded in the soil. Consequently, they couldn't dig down into the earth to plant their edible hedge; instead, they had to build the earth up with layer after layer of organic material – a process that has taken over a year to complete.
The new, good soil insulates the roots from the polluted earth below. Over time, the embedded pollutants will break down, and the site will be reclaimed.
They also needed enough volunteers, not only to build the hedge, but also to maintain it long-term. That led to an alliance of community groups, including the Northeast Neighborhood Association and the South Sound Fruit Tree Society, as well as the VCC. As Ian Stoner, the store's resident arborist and President of the Fruit Tree Society puts it, the hedge "provides a forum where the community can learn about different varieties of fruit, which will empower individuals to be more assertive about caring for the trees in their own back yards."
Local arborists Mike Moore and Shawn White provided the truckloads of wood chips needed to build the soil up, and Mike Moore also donated a beautiful, rustic bench made from rough-milled timber. Eventually, that bench will occupy a place of honor in the hedge, surrounded by educational boards teaching passers-by the fine points of hedge building and maintenance.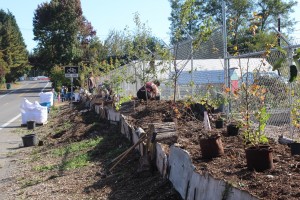 After a year and a half of planning and preparation, October 3, 2015 saw the first planting at the site. An all-volunteer workforce planted a plethora of perennials donated by Eastside Urban Farm and Garden. The initial planting included twelve fruit trees – apple, pear, plum, cherry, and others – as well as fruit-bearing shrubs and a wide variety of herbs.
The weather was as cooperative as the volunteers: our unusually glorious October sun kept the project moving and the spirits high as the vision began to take shape in reality.
In the spring, another work party will be held to plant rows of kale and other green veggies along the base of the hedge. Throughout the year, volunteers will work alongside staff to handle maintenance and upkeep. And participants in the many classes taught at the store will get a hands-on education along the hedgerow.
If you'd like to volunteer or find out about classes, check out Eastside Urban Farm and Garden's event calendar. Donations to support the hedge project can also be made inside the store, located at 2326 4th Ave East in Olympia.