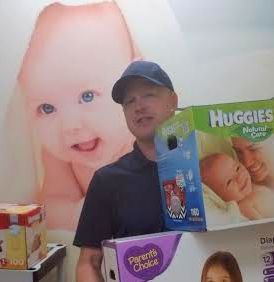 By Heidi Smith

Ask any new parent where a significant portion of their money goes and they'll tell you, diapers cost a lot. And, when you have an infant or toddler, having a consistent supply of diapers isn't optional.  So what do families do when money is tight and it's a choice between rent or diapers?  Dinner or diapers? Luckily, one local man is trying to help families when times are tight so they don't have to make that tough choice.
"People don't realize how expensive they are," says Lance Benson, owner of Dry Tikes & Wet Wipes a non-profit 501(c)(3) organization based in Olympia with the mission of helping low income families with supplementary diapers. "A friend of mine went to Costco recently to pick up some diapers and walked out $150.00 later. If you go to Target or Safeway and buy those little packs of ten or fifteen, you're paying top dollar for them. People forget. For parents, they are a necessity."
Benson started the non-profit organization to help low-income families fill a need he saw every day in his role as a property manager. Benson would regularly see tenants struggling to pay their rent, many of whom had small children. "That's where I started seeing the need," he says. "If they're already struggling and have children, normally they don't have diapers." As the father of a five-year old, he sympathized and initially, he would donate diapers to the families himself.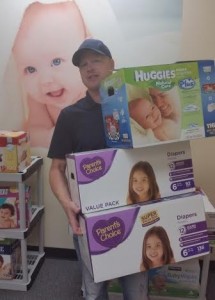 Later, as he considered opening another business, Benson experienced a brief war between his head, insisting on creating something profitable, and his heart. The heart won. "One day I said, 'I'm going to do something that will help people with their diaper problem.  It won't make any money and I'll probably actually go in the hole every month, but it will help people.'"
Having made his decision, Benson went through the arduous process of gaining non-profit status, making any donations tax deductible. "It took a few months to go through the application process," he says. "It's a huge book of paperwork that you send in and they send back more. Once it was up and running, I didn't know how to get the word out that, 'Hey, I'm here if someone needs some diapers.'"
It was at this point that he connected with the Thurston County Chamber of Commerce and Member Services representative Martha Wagner recommended he visit Safeplace. "They started sending people my way," he says. "In the beginning, I was getting one or two people a week or every other week, but now I get two or three people a day. Sometimes I'll have six people in one day."
Every month he provides diapers of all sizes to parents who are out of options, including victims of domestic violence and sexual assault referred through Safeplace. "I'm just really grateful that he's there," says Amy Heller, Residential Services Program Coordinator at Safeplace. "There's been a lack of resources in the community for diapers, so it's pretty awesome to see someone notice that and try to do something about it."
Heller has visited Benson's office several times. "Every time, there's been a line of women and kids just waiting," she shares.
While the demand has increased, community support is not yet keeping pace. Currently, Benson rents a small office on Eastside Street and 11th Avenue SE across from Saint Michael Parish, where families can pick up diapers and local businesses and individuals can make donations of diapers and wet wipes. Now that the word has spread about Dry Tikes & Wet Wipes service there are often not enough diapers to supply everyone who needs assistance.  "The hard part is when someone comes in and I have to say, 'I don't have that size. I'm sorry,'" he shares. "They walk away upset and it makes me upset too, because I feel like I should be able to provide this. Sometimes I spend my own money, but I don't want to have to do that."
One regular donor is Benson's dentist, Dr. Yathi Lingam of Olympia Smiles. Every month, his office donates bulk packages of diapers and wet wipes. "The need is there and Lance is doing awesome work," says Lingam, whose practice specializes in laser treatment of lip and tongue-tie in infants, a condition that makes breastfeeding painful for mothers. "It doesn't cost much. Everyone can do their part," he says.
"All of my diaper donations come through word of mouth," says Benson. "My eye doctor contributes, several day cares have contributed and I've also put out diaper bins at local businesses."
Occasionally, people ask him about reusable diapers rather than disposable ones. While he agrees on their value, he doesn't think they are a good fit for the niche he's filling. "They're extremely expensive," he explains. "For a 6-pack they're $150." For now, Dry Tikes & Wet Wipes will stick with disposables.
With the increased demand, he says, more community support would make all the difference.  "If people want to help, it would be helping find resources where I can gather donations. The bottom line is, I need more diapers. I'm getting calls from more people who are referring their clients to me. I'm just this small person, but I feel like it could get a little bigger and supply more families."
If you would like to help Benson's mission to fill the gaps for local families with little ones by donating diapers or wipes to Dry Tikes & Wet Wipes, contact Lance Benson at 360-584-8684, email him at DryTikesAndWetWipes@yahoo.com, or visit the non-profit on Facebook.