By Tobin Fitzthum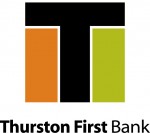 Despite their national acclaim, the Mud Bay Jugglers are an inherently local group.
Their name is an homage to space that co-founder Doug Martin looked upon as he rolled loaves at the Blue Heron Bakery. Besides the group's name, there are many other ties to Thurston County. The Evergreen State College, for example, where Martin and co-founder Mark Jensen went to school and later member Alan Fitzthum worked, served as a focal point for the jugglers' early history.
Alan met Doug when he was selling felt hats to the other students. Soon they were juggling together in Red Square. Their first performance was at the Trail's End Circus. Ten years later, in 1989, the group had taken to the road touring throughout the western United States performing at colleges and flea markets, while eating granola and falafels in cold campsites.  Today, the group includes Doug, Alan and Harry Levine.
Even though the venues got larger and the drives to them longer, the group was always focused on having fun collectively, an activity that includes the audience. This ideology shows in performance. Doug, for example, emphasizes how juggling "makes you do something that I think is very important: work with some other people." It is this thinking that has motivated the jugglers to stay away from solo routines.
Likewise, the jugglers wanted to avoid the sensationalism that is present in many other street acts. "Usually what people do is shout whatever they can to gather a crowd. We wanted to try something different," Doug explains.
This idea led to a routine known as slow motion. When performing in the street, the jugglers would start their shows by placing three juggling pins in the center of the area they would use as a stage. Each of the three jugglers would start about 100 feet from the clubs and walk toward them in slow motion. As each member approached the clubs, more and more people would wonder what was going on and fall in line behind to find out. By the time the jugglers united at the stage, they would have gathered a crowd. "And all we did was walk slowly," says Doug.
"It just seemed like a natural progression," says Alan discussing the decision to start touring. None of the members spoke of any definite point when they thought they had made it as jugglers, but the transition was undeniable. In 1986 the jugglers began touring with a trip to Arizona. They bought a van, painted their logo on the side, and set off. "I think we drove for 21 hours on the first day," recalls Alan. The tour took them to colleges across the state where they performed in cafeterias and recreation centers.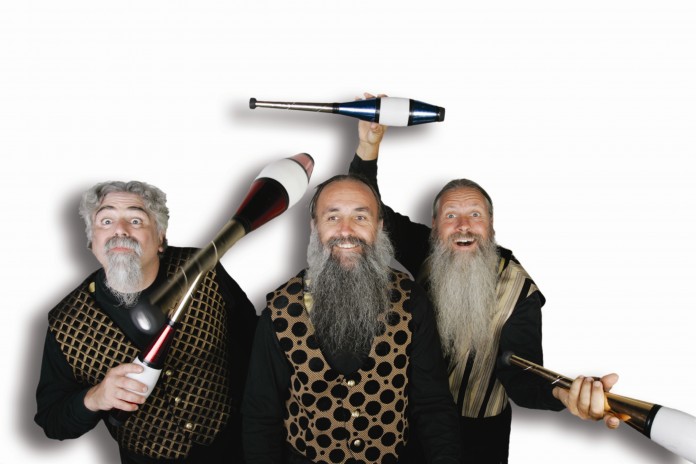 Soon they had become staples of events such as First Night Tacoma and the Oregon Country Fair. Their newfound notoriety also manifested itself in opportunities to appear on television. Though the group was never into sensationalism and turned down an invitation to appear on America's Got Talent, they have appeared on several networks in segments that emphasize their creative process and love of performance.
Though the name speaks truly of the group's origins, it does not suffice to describe their craft. The Mud Bay Jugglers are more than jugglers. Founded in a time when most jugglers focused on technical proficiency while standing in one place, the Mud Bay Jugglers wanted to do something different. Their style is a unique blend of dance, comedy, and juggling. They fascinate audiences young and old and can hold the viewers' attention through countless routines with humor and subtle drama that has been polished until it shines.
What would a dance be without music? The jugglers originally performed alongside an ensemble of drummers whose hypnotic rhythms contributed to a spiritual feel at performances. In time, however, the jugglers also adopted other forms of music, choreographing new routines to a truly eclectic soundtrack featuring everything from castanets to didgeridoos. Today the jugglers often perform along with local band The Tune Stranglers. Still, however, the music reflects the rich history of the group.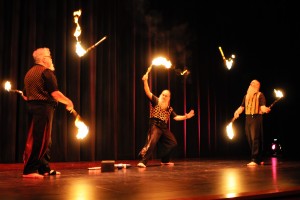 Why have the Mud Bay Jugglers lasted 35 years? In a 1986 interview, Doug said he would have "quit five years ago if it wasn't for the people he juggled with." Today he is of the same mind. Doug says that he quickly got bored of juggling by himself but once he learned to juggle with other people, "it was all over."
Alan echoes this idea saying simply, "If I juggled by myself I get bored." Though the Mud Bay Jugglers have seen some turnover over the years, their style and their values have not changed. From the beginning it has been about developing creative ideas and sharing them with the audience. The ensuing joy is mutual.
Now a group founded 35 years ago will perform once again in a tradition started 25 years ago. On November 14, they will hold their 35th year anniversary show at The Washington Center.
Follow along with the Mud Bay Jugglers on their website or via Facebook.