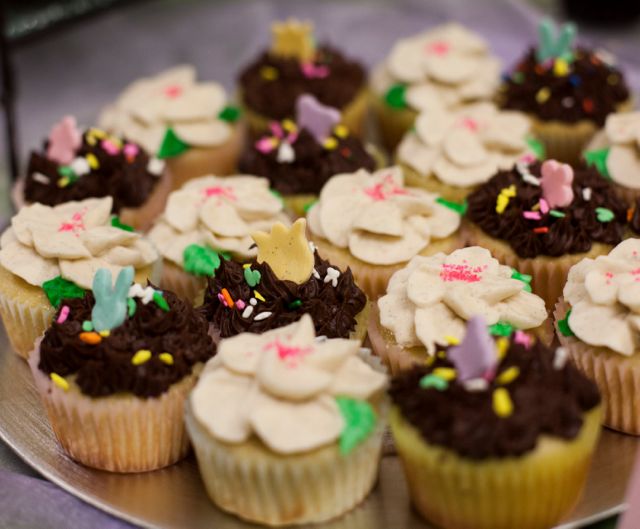 Submitted by Miss Moffett's Mystical Cupcakes 
Olympia's Miss Moffett's Mystical Cupcakes and Elle's Floral Design have partnered to open Thurston County's first cupcake/floral shop. The store is located at Market Square (Fred Meyer Complex), 730 Sleater Kinney Rd SE Suite E, Lacey.
The new shop, directly across from the Lacey Fred Meyer gas station, offers not only a full menu of delectable cupcakes and custom order cakes and pies, but also fresh floral arrangements and cut flowers, plants, plush animals, balloons, plus provides local delivery in Thurston county.
With plenty of in-house seating in a warm and inviting atmosphere, Mystical Cupcakes and Elle's Floral Design will also focus on bridal events and wedding planning to create an easy and convenient place for the bride and groom to finalize all the details for their big day.
Lacey native Michelle LaPraim, owner of Elle's Floral Design, is excited that her dream of owning her own floral shop has come to fruition.
"My original goal was to make enough money to help pay the bills every month. By word of mouth and the Thurston County Chamber, I began gaining business," LaPraim said. "It got to the point where I was so busy I was having trouble keeping up with my full-time job, my side job and my children. I knew I needed to make a decision to either take the safe route or follow my dream of owning my own floral shop. I followed my dream and am loving every minute of it."
Elle's Floral Design specializes in weddings, memorials, special events and everyday design and offers national delivery service through FTD and Teleflora.
Rachel Young, owner of Miss Moffett's Mystical Cupcakes, is no stranger to opening new cupcake shops. This is her third location for her gourmet artisan cupcakes.
"With a location in downtown Olympia by the Farmer's Market and a second shop in Capital Mall, a Lacey location was the next step," Young said. "Plus, pairing cupcakes and custom order cakes with a flower shop is perfect for all of our wedding clientele."
Miss Moffett's Mystical Cupcakes was established three years ago by Young in her kitchen as she experimented with and developed her own unique recipes. Joined by her mother, Victoria Cunningham, the two appeared on Food Network's Cupcake Wars in October 2013, which re-aired in April 2014. The episode, "L.A. Bridal Bash," can be viewed from the link on the shop's Web site: www.mysticalcupcakes.com or on Netflix.
A grand opening and ribbon cutting will be held at the Lacey location September 3 at 4:00 p.m. More details will be announced via their Web sites: www.mysticalcupcakes.com or www.ellesfloraldesign.com and also on their Facebook pages: www.facebook.com/mysticalcupcakes or  www.facebook.com/pages/Elles-Floral-Design.
For more information, contact Young at info@mysticalcupcakes.com, LaPraim at ellesfloraldesign@gmail.com, both in person at the shop, 730 Sleater Kinney Rd SE Suite E, Lacey, or by phone at 360.489.0407.