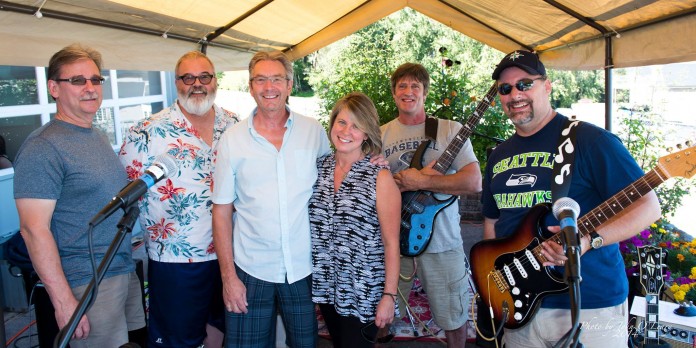 By Donna Wilson

Whether playing on the same sports team or participating in the same club, school can help young students come together with others who share a common interest. But students aren't the only people who benefit from this environment. A combination of Olympia School District faculty, parents and board members make up the rock and roll group best known as Mick Hart and the Classic Vinyl Band, and it was school that brought these like-minded musicians together.
It was 1987 when Mick Hart and Gordon Chamberlain formed the band The High Tops in Missoula, Montana. The duo disbanded briefly in the early 2000s when in 2001, Gordon moved to Olympia for a job at a local school. However, it would be only one year later that Mick would end up coming to nearby Tacoma for a position as a principal. Reunited, the two educators continued to play music together as often as they could.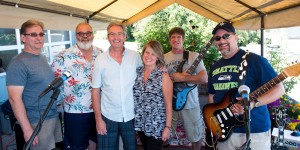 Not much later in 2006, Mick took a teaching position at Reeves Middle School where Gordon was the assistant principal. Now, at the same school, the musical duo could talk guitar riffs and solos in-between classes.
During planning for an upcoming dance at the school, Mick and Gordon offered to play music during the event, but they were going to need some reinforcements. Mick and Gordon recruited some people they knew to play with them in the band. On drums was Capital High School Principal, Larry Walsh, on lead guitar and vocals was then-parent volunteer (now school board member) Frank Wilson, and on bass was parent Ken Van Camp. Mick traded in his guitar for a keyboard and Gordon took the lead on vocals.
The group enjoyed playing together and quickly began booking shows. They mostly played for the school district at first, and then the band started performing at private parties and small clubs. Since forming nearly a decade ago, Mick Hart and the Classic Vinyl Band has performed at a wide variety of venues including concerts in the park, hot rod shows, wedding receptions, medical fundraisers, parties and more.
"It's been a great joy, and I think it surprises people when they see that we're playing music," says Gordon. "Students are kind of shocked when they recognize that their grumpy old assistant principal is playing in a rock and roll band," Gordon adds with a laugh. "It's been a lot of fun, and I think there's something pretty special about being able to do this, especially at my age."
In 2011 Larry Walsh left the band and John Godfrey, a parent in the district, took his place on drums and vocals after his old band, The Sister Project, split up. Ken's sister, Jane Van Camp, also from The Sister Project, joined the band in 2013 on vocals and percussion. Though the line-up has changed, the spirit of the band remains the same. The current line-up is Frank Wilson on guitar, Ken VanCamp on bass, Gordon Chamberlain on keys, John Godfrey on drums, Jane VanCamp on percussion and Mick on guitar — everyone sings.
The band mostly does classic rock and roll, but they also add a touch of other genres from time to time like country or contemporary, depending on the crowd. Mick, currently the assistant principal at Olympia High School, says, "Whatever music we play, we want it to be, for the most part, recognizable and music that people can dance to. That's primarily why we chose the rock and roll era." After recently playing at a sock hop at Olympia High School, the band found that even the younger generations knew the words to the songs, and the dance floor was packed the whole night.
Jane says, "Playing all the great, local places here — the South Bay Pub, the Pig Bar — is often like attending a family reunion. There are so many connections: family, schoolmates, past co-workers, and friends of friends. A gig feels like a really fun party where everyone knows each other somehow or soon will."
Finding time to rehearse between work, family and other obligations can be difficult, but Mick says, "No matter how busy you are, when you put yourself on a stage and that first note is hit and you start a show — you can be somewhere else for a few hours." Finding time is difficult, but the reward of playing live music with a group of like-minded people is well worth the challenge. "We all get along great, and it's just fun to be around each other," says Mick. "I'm thankful that I have the band mates that I do because that's everything. If you have a good group of people to be able to work with, you can just do so much."
To learn more about Mick Hart and the Classic Vinyl or to find out about upcoming shows, visit the band's Facebook page. To book them for a show, contact Mick Hart by phone at 253-380-8878 or email the band at mickhartband@gmail.com.