Submitted by FirstLight Home Care – South Sound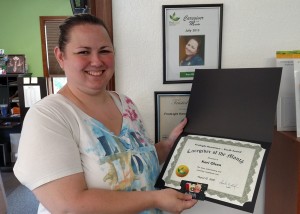 When you meet Kari Olsen, you can't help but be energized by her huge smile, according to Sarah Lane, owner of FirstLight HomeCare – South Sound.
"Kari has this wonderful smile that reflects so well her joyful, positive spirit and her big heart for others," said Lane, who announced today that Olsen has been selected as the "FirstLight Caregiver of the Month."  Each month, FirstLight recognizes an outstanding caregiver as part of their employee recognition program.
"Kari truly loves being a caregiver and that is reflected in how well she serves her clients," said Lane of Olsen, who has worked as a caregiver for more than six years. "She has great compassion for others and connects so quickly with clients because she listens and cares so deeply about them.  Kari reflects exactly the values we have at FirstLight and is very deserving of this honor."
Olsen, who grew up in Utah and recently relocated to the South Sound, said caring for others is her greatest passion.
"I can't believe I get paid for doing what I love – caring for people," she explained through a big smile.  "I have the honor of caring for amazing clients. I enjoy being there for them, helping them through tough times and being a part of their lives.  I love to be able to make them smile during a bad day."
During her free time, Olsen also enjoys hiking and camping, as well as traveling and helping to plan weddings.  She also makes plenty of time for her dog, Chopper.
"I don't yet have children," she said, "but I have a dog who thinks he's a child and feels like my child.  After a productive day, either at work or at home, I enjoy ending it with a quiet walk with Chopper."
FirstLight HomeCare – South Sound is owned by Sarah and Greg Lane, long-time Olympia residents. To learn more about companion and personal care, dementia care, respite care or other non-medical home care services offered by FirstLight, give Sarah a call at 360-489-1621 or visit www.southsound.firstlighthomecare.com.