"The difference between style and fashion is quality," decreed Giorgio Armani. Whether you're looking to transform a vintage heirloom, customize an off-the-rack find, or want to bring an entirely new design to life, the skilled seamstresses at Laura's Alteration and Tailor Express can do it all.
Newly located in the west-side Capital Mall, the Olympia location celebrates its August grand opening with sales throughout the fall. With the addition of the new store, Laura's Alternations and Tailor Express proudly operates eight locations from Bellingham to Portland.
With formal training and more than 20 years of experience under her belt, Laura is an accomplished, experienced seamstress. She studied fashion design as an undergraduate in China before moving to Japan to finish a Masters degree in the same subject. She has been in the field for two decades since and passes her skill and knowledge on to all the seamstresses Laura's Alteration and Tailor Express employs.
This key element of "training the right person" is crucial for their customer-based business model. Laura and her staff acknowledge that, "we know there are many other competitors, but we have a service first business." With overall goals of quality, speed, creativity and willingness to tackle any project, Laura and her team are up for any challenge.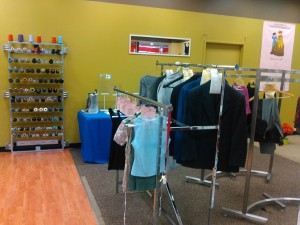 Most people turn to tailors for simple jobs like hemming pants or replacing broken zippers, but at Laura's, that's simply the beginning. Laura's can create, modify, or repair just about anything with its "Bring it in and we'll do our best" attitude. Since Capital Mall doesn't have an on-site shoe repair facility, Laura's is willing to tackle the challenge. Need a winter long-sleeved shirt converted to summer short sleeves? Laura's will do it. With experience repairing everything from luggage to baseball hats, sewing patches patches on motorcycle jackets and creating entirely custom outfits based on just a description or a photo from a magazine, there's no project too tough for the team at Laura's.
Perhaps best of all, the staff at Laura's is proud of their quick turnaround times. Pant hems can be fixed while you wait, and same day service on other jobs can be performed at no additional cost. Simply drop your items off and enjoy the mall's many amenities while you wait.
For custom orders, no completed pattern is needed. Laura's training means that after taking measurements, she can design a piece inspired by a picture or even a detailed, descriptive conversation. She asks key questions about the garment, event and pricing to ensure that customers "get what they want." Many times, the result is even better than what the customer envisioned.
Such a consistent level of quality has not gone unnoticed. Large chains like Macy's, Nordstrom's, Wilson's Leather, Harley Davidson, David's Bridal and Dolce Bleu all send alteration work to Laura and her staff.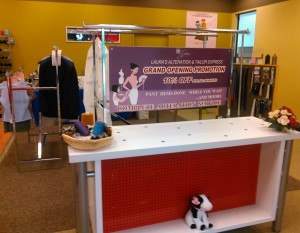 Fancy occasions like proms, weddings and black tie events are also easy and quick. Laura strives to keep her "hours flexible and convenient for the customer." Bridal work typically takes 2 to 3 days to complete, as all machines are thoroughly cleaned before working on wedding gowns. This guarantees no stray colored thread or dye marks the dress itself. Because such occasions can be stressful for the participants, it's not unusual for last-minute changes to arise. Whether it's a last-minute prom dress disaster, an unexpected job interview, or an unforeseen funeral, Laura "cannot say no, and there are often appreciative tears" upon completion.
With hours from 10:00 a.m. to 9:00 p.m. Monday through Saturday and 11:00 a.m. to 6:00 p.m. on Sunday, it's easy to drop by with any questions. No job is too big, small, urgent or complicated. Ask about Laura's Grand Opening and student discounts as well.
The thought of visiting a tailor may feel old fashioned or expensive, but Laura and her team prove the opposite. Whether you're breathing new life into a vintage find, recycling last year's jeans into this summer's shorts or repairing favorite sneakers, purse linings or dog collars, there's nothing like giving tried and true favorites a second chance. Stop by, you'll be glad you did.
Visit Laura's Capital Mall location with questions or call 888-988-6425.
Laura's Alteration and Tailor Express
625 Black Lake Boulevard
Olympia, WA 98502
888-988-6425