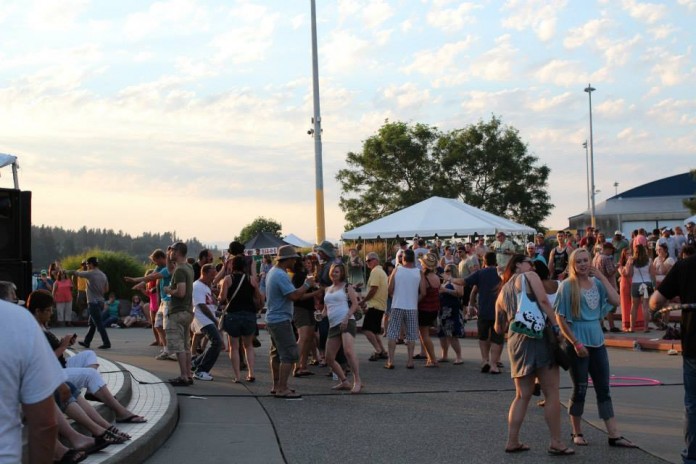 By Kathryn Millhorn

"They who drink beer will think beer" declared 'Sleepy Hollow' author Washington Irving. What better way to do both than at the annual downtown Olympia Brew Fest on Saturday, August 1?
The Port Plaza will be converted into a waterfront celebration of all things brewing on Saturday. With more than 30 local breweries, live music, and delicious food, the Olympia Brew Fest promises to be a night to remember.
Event creator Michael Marohn started the festival four years ago on the former boardwalk site of Sand in the City. With his professional offices nearby, he was struck that "this would be a great place for a Brew Fest." Having organized and promoted concerts around the Pacific Northwest since his college days, Marohn arranged for the Thurston County Chamber of Commerce to eventually take over and use the event as a community fundraiser.
Celebrating "Olympia's brewing heritage," Marohn and the Brew Fest team recruit all invited brewers individually, tasting their beers beforehand to make insure that while "it doesn't matter where it's from, we have to feel their beer is good and not something you can get just by going to the store." This commitment to quality means that they find themselves "turning vendors and brewers down that don't measure up."
With a true spirit of "we can do this!" the Olympia Brew Fest promises to be "innovative but something people will definitely want to go to." This pioneering spirit was shown last year in their use of cooling misters to keep festival-goers comfortable, and accepting Bitcoin as ticket payment this year.
While brewers will come from across the region, many represent our neighborhoods' finest.   Long-time favorites Dick's Brewing and Fish Brewing Company represent the old guard. But their freshest product mingles freely with family-run shops like Top Rung Brewing and the Three Magnets Brewing Company. Even newly organized crafters like Triceratops Brewing Company and O-Town Brewing are available to sample.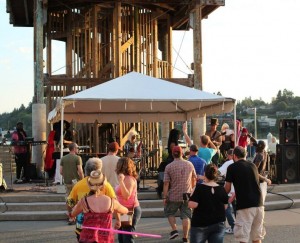 Prefer the freshness of local apple cider? Drop by for a taste of Whitewood Cider Company's hard cider, living up to their
grow local, ferment local, drink local" motto. If this inspires you to try your own home-made creation, visit the booth for Rocky Top Homebrew, a supplier of all the ingredients, materials, and advice you'd ever want.
Tickets for the event can be purchased online for $25 through 1:00 p.m. on Thursday, July 30 or $30 at the Festival gates. Advanced purchase is highly recommended as there are only a limited number available.
Organizers chose to limit entry to avoid unpleasant overcrowding and insufficient quantities of the guest of honor: beer.
Want to get in an extra workout beforehand? The 2015 Capitol to Bay Relay Race is a "38-mile race…to showcase the varied geography and recreational opportunities in Thurston County" and consists of a "five-leg relay starts at Capitol Forest with mountain biking, road biking, paddling, running and ends at Budd Inlet with the Team Trek leg." Beginning at noon on Saturday, the relay race finishes up at the Olympia Brew Fest. Race contestants have a private entrance to the Festival, receive discounted tickets for family and friends, and can attend Brew Fest for free. The Relay awards ceremony will take place at the Port Plaza Park at 5:30 p.m.
The national Brewers Association ranks Washington second overall in the number of craft breweries per state. They estimate adults in our state consume 2.5 gallons per year. Do your part at this year's Olympia Brew Fest.
Follow the Olympia Brew Fest's Facebook page for up to the minute updates.
Port Plaza
Saturday, August 1 from 1:00 p.m. – 8:30 p.m.