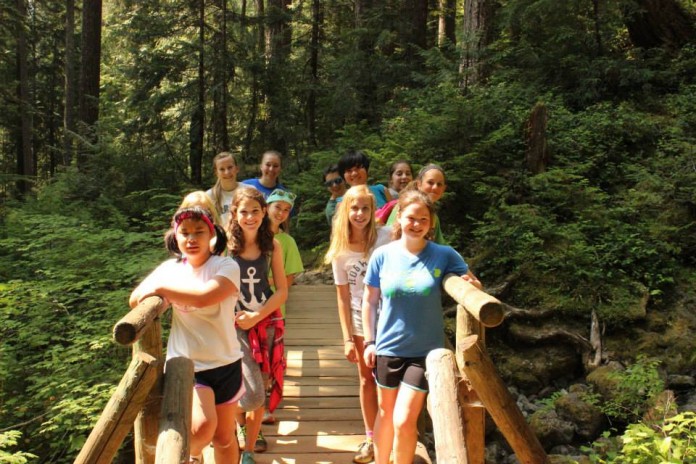 By Madeleine Elliott

Three days a week, girls from Capital High School's cross country team meet to go running around Olympia. Official team training does not begin until August, but it is a tradition for team members to get together during the summer to prepare for the season. Both returning runners and new members of the team are welcome. In fact, new members are encouraged to come to the runs early (and often) in the summer so they can get to know the team. So far, this tradition has paid off.
From the outside running seems like a solitary activity, but the team is an important aspect of cross country. "Our team is really like a family," says Amy Stock, a senior at Capital who will be one of three team captains in the fall. "It's really one of the nicest teams I've ever been on."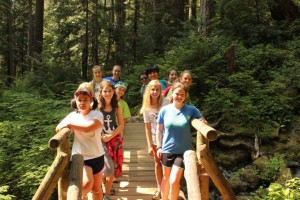 Sarah Paquet, a junior at Capital who started running with Capital's girls four years ago as a part of their middle school program, also emphasizes the importance of the team. "It's a team and you have people you're accountable for.  You learn a bunch of different skills, a lot of new things, other than just running by yourself."
Running in the summer is much more casual than it is in the fall. Rather than moving through structured workouts, team members like introducing new runners to their favorite routes or going for hikes together, like one they took to Lena Lake in July. And there is no pressure to show up for every run. "It's something to do in the summer," says Sarah.  Amy jokes, "Otherwise I'd be incredibly lazy during the summer."
Summer running also helps build a foundation for the runners. Exercising two to three days per week during the summer helps ease them back into running so they will be ready for practice six days a week the minute the season begins in August. And they take that literally. Each year, official training begins with the Midnight Run, where the team meets at midnight to run a lap around the track at Capital for the first practice under the instruction of coach Kevin Wright. This is the kind of dedication that has sent Capital's girls cross country team to the state meet for 15 years in a row.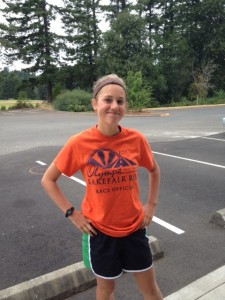 Three girls from the team—Amy, Sarah, and Jamie Schueler, also a senior at Capital who will be another of the team captains—shared their favorite summer runs.
The run that Sarah picked is the longest of the three. They call it Ken Lake because of its destination. She describes the route by saying, "[starting from Capital] we run up Kaiser and we go down this trail to Ken Lake." It is an especially good run in the summer, when the lake can provide some much needed refreshment. After running all the way back to Capital, the distance covered can be between 4 – 5 miles, depending on whether the run was just to the lake or all the way around it.
Jamie's run, one called Grasslake, also has a variable length. "We run from [Capital] and down to the Grasslake neighborhood," she says. "And there's a loop back there, in the trails. We can do however many loops… and then we run back." The Grasslake run can be 3.5 – 4.5 miles depending on the number of trail loops, making it a good medium between Sarah's run and Amy's route.
"I guess my favorite run is a run that we call Hospital," Amy says. It gets its name because the roads they take lead around the Capital Medical Center in West Olympia. Starting and ending in Capital's parking lot, "we kind of make a block around the local hospital," Amy says. The run is about 3 miles, which puts it on the shorter end of a typical practice run for the cross country girls. Its length is similar to the 3.1 mile (five kilometer) length of a cross country race. "I like it because it was the first run I ever did, and we do it a lot," Amy adds.
For the Capital High School girls cross country team, summer is a time for getting into shape and getting to know each other. Running and hiking together has helped the team build a strong foundation. The team has a long-standing reputation for being friendly and inclusive, and it starts with the encouragement and support passed down among the runners. Capital's girls make sure every runner knows they matter. And when every runner matters, every runner can do great things.