By Madeleine Elliott

When Lindsey Dalthorp was in elementary school, her father bought a point and shoot camera for their family. It was nothing too complicated, just a simple camera to use for capturing memories. But from the beginning, Lindsey found herself drawn to it.
"I like taking pictures of people because I get to capture important events in people's lives," says Lindsey listing senior portraits, family photos, prom pictures and other things people want to have tangible memories to look back on. "I like the documentation of it."
By high school she had purchased a digital SLR (single-lens reflex) camera for herself, and with it she could have greater control over the pictures she took. But she still did not know photography would become a business for her. Not until her senior year of high school when a few friends asked her to take their senior portraits. "That was when I fell in love with portrait photography," she says. And it was also then that she realized photography held a future for her.
Since graduating from Capital High School in 2014, Lindsey has been building a photography portfolio. Part of her portfolio can be seen in an online gallery, although clients can ask her to post pictures privately, if they so choose.
She balances this endeavor between classes at South Puget Sound Community College and her other job, coaching beginning gymnastics at Alley Oop Gymnastics Center. At SPSCC, Lindsey studies art and early childhood education. After she earns her Associate's degree she plans to attend a four year university, where she will continue to pursue both photography and education. She loves working with young children in all three of her pursuits – education, gymnastics, and photography.
Lindsey often spends time shadowing Shelby Schmidt at Something Minted Photography to get experience with more complicated shoots like wedding photography. Lindsey met Shelby through Alley Oop, where they worked together and discovered they were both photographers.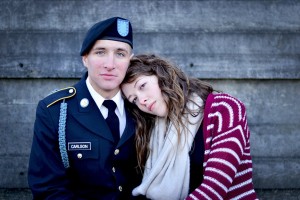 "I really look up to her with the business aspect of photography and how she interacts with her clients," Lindsey says of Shelby. When working with Shelby, Lindsey acts as a second shooter (taking additional pictures from different angles) and in the process learns to put her subjects at ease and capture better images through hands on experience.
"We take pictures together and she gives me tips and pointers. I learn a lot watching her. She's a good role model for photography." However, Lindsey's main focus is taking portraits for her own business, Lindsey Dalthorp Photography. This is where her passion lies.
She considers herself a lifestyle photographer. Her portraits are about catching candid moments and real memories. She likes to preserve things, emotions and feelings that people can re-experience through photographs.
"For senior portraits—or other types of portraits—I generally do a two hour shoot," says Lindsey. This is because weather and lighting conditions can be unpredictable and it is important to have enough time to make adjustments. "I start with a 15 minute meet and greet so the clients feel comfortable around me. If they don't feel comfortable it shows (in the pictures)."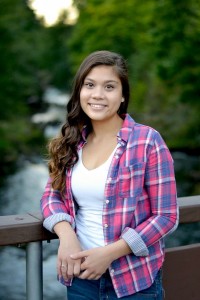 She also permits her clients to choose the location of the shoot, although she has a few favorite places around the Olympia area that she often offers up as suggestions. "Usually people don't know what they're looking for exactly," she says. "I ask what kind of background they're looking for and help them narrow something down." The background of a photo is important to making it truthful to the memory captured within.
After the shoot is finished, Lindsey spends some time polishing the photos. "Generally it takes two to four weeks to finish pictures," she says. "It takes a lot of work to go through all of the pictures and choose the best ones and edit them to the best of my ability." Editing includes adjusting lighting, cropping, and framing.  The time required depends on the season. "Senior portrait season is really busy," she notes.
What started as a casual interest in photography has become a calling for Lindsey Dalthorp. She is not just a girl with a camera.  Instead, she is someone who is taking a hobby and transforming it into something more.
Appoints with Lindsey Dalthorp can be made via Facebook or by sending her an email.