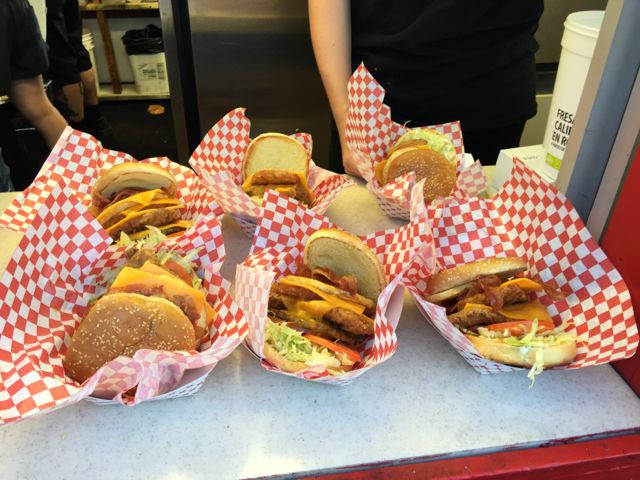 Submitted by Martin McElliott
On Sunday July 12, Eastside Big Tom held a fundraiser to benefit Shawn Smith, an Olympia resident, who needs a lung transplant due to being stricken with Pulmonary Fibrosis.
During the two hour event, you would be surprised how many people can fit in the small parking lot.  Over $3,700 was raised to help offset Shawn's medical expenses.
"We sold out of bacon and I ordered 1,500 pieces," exclaimed owner Michael Fritsch when describing his appreciation to his customers and staff. "We had past employees who stopped to participate and ended up working instead!"
The deal was simple.  Fritsch offered a "Tom Hanks Burger," so named because Shawn shows a strong resemblance to the popular actor. The $5 meal also included fries and a drink. If you didn't finish it, you'd pay $10. The burger was huge and included chicken and hamburger patties along with hash browns, egg, bacon, lettuce, tomato and of course goop! The size alone was astonishing.
In the end, the community came together to show their support of another human being in need. Many just donated money for Shawn, but hundreds enjoyed the great food of Eastside Big Tom.
Follow Eastside Big Tom on Facebook or visit their drive-thru restaurant at 2023 – 4th Ave E in Olympia.
This slideshow requires JavaScript.