By Kathryn Millhorn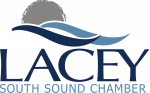 "Deep summer is when laziness finds respectability," said philosopher Sam Keen. And what more respectably embodies summer than an open air concert with beach blankets, picnic baskets, and dancing under the stars?
From June 24 until August 5, the City of Lacey will host two amazing musical series featuring a dozen of our region's finest performers. The annual Lacey in Tune Summer Concerts in the Park series consists of performers, entertainers, and movies on the lush lawns of Huntamer Park.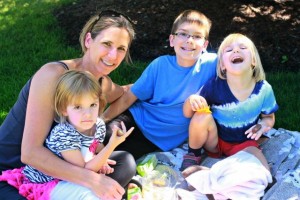 Located behind the Lacey Fred Meyer, Huntamer Park hosts educational fairs, markets, car shows, and the annual South Sound BBQ Festival. There is lots of free parking available and it's within easy walking distance from Intercity Transit's Lacey Transit Center.
These free, family-friendly shows take place at noon on Wednesdays and 7:00 p.m. on Saturdays. Jordanne Beasley, Recreation Coordinator for Lacey Parks and Recreation, is proud that "we have another fabulous line up for summer 2015. I'm looking forward to new and returning acts and artists."
Continues Beasley, "Wednesday concerts are a great way for anyone to swing by and enjoy some sun and fabulous music. I love seeing Huntamer Park crowded with people at noon from nearby office buildings, taking their lunch break and getting outside."
The Saturday evening shows consist of a concert at 7:00 p.m. and a movie which begins at dusk. In the past, Wednesday performances have drawn between 200-500 people while the weekend combos can pull in as many as 1,000 delighted visitors.
While food vendors are often on-site, attendees are encouraged "to bring snacks, blankets, pillows and make themselves comfortable for the performances and movies. Dancing, of course, is also encouraged!" laughs Beasley.
Shown on a large 18' by 18' screen, this year's movies include some instantly-recognizable faces: Goonies, Muppets, and the much loved characters from the Jungle Book and Back to the Future. Because they don't start until dusk, shows can run late; be sure to pack warm blankets and comfy lawn chairs for ideal summertime basking. This is especially true of the season's final show on August 8. After Wally and the Beaves wrap up their concert, all three Back to the Future movies will be shown back to back. The fun is sure to continue well into the wee hours of Sunday morning.
If you have questions about either series, contact the Lacey Parks and Recreation offices at 360-491-0857.
Wednesdays at Noon
June 24: Jasper Lepak — Heartfelt Folk/American
July 1: Full Metal Racket (133rd Army Band) — American Pop
July 8: Danny Vernon — Illusions of Elvis
July 15: Locust Street Taxi — SKA Rock originals, covers, & improvisations
July 22: Men of Worth — Scottish/Irish Folk Duo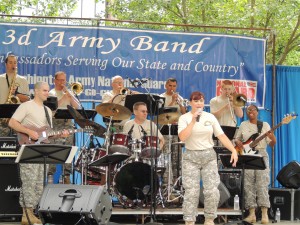 July 29: PrimeTime Country — Classic Country
August 5: Ben Potter Band — Americana/Acoustic Rock/Country
Saturdays at 7:00 p.m.
July 11: Spike & the Impalers — Classic Rock alter ego of popular Bob Rivers morning show on 95.7 FM
July 18: The Coats — Premier acappella band & The Goonies (rated PG)
July 25: Son of Reptile Man — Live animal presentation & Disney's Jungle Book (rated G)
August 1: Funaddicts — Pop music covers & Muppets Most Wanted (rated PG)
August 8: Wally & the Beaves — 50's-60's Golden Age of Rock & Roll & Back to the Future I, II, and III (rated PG)