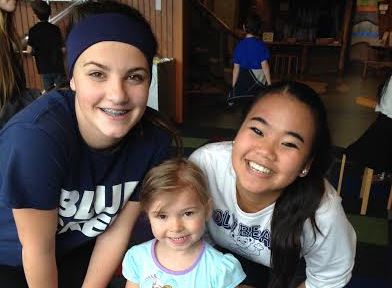 By Sara Hollar, Olympia High School Intern to ThurstonTalk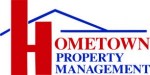 Olympia High School students spend their school day surrounded by peers. They are submerged deep into a world of schoolwork, tests and teenage obstacles. However, for one period a day, the students enrolled in OHS's Early Childhood Education (ECE) class are catapulted back into preschool.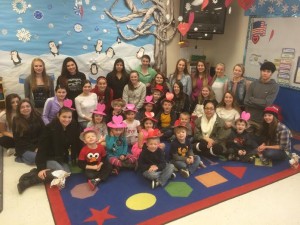 The Early Childhood Education class, taught by Katie Turcotte, was created to give students a first-hand experience with the development and care of young children.  When they spend time in the Oly Bear Preschool at Olympia High School, ECE students are not just reviewing the days of the week or how to hold a pencil, they are forming meaningful bonds with their preschool buddies and learning skills that will last a lifetime.
Early Childhood Education students split their time between the classroom and the preschool, alternating in two week rotations. Days in the classroom are for important lessons, including worksheets, projects and activities centered on childhood development and proper care. The other half of the time, ECE students are one door down from their classroom, where they are matched up as "buddies" to the three-, four- and five-year-old children in the Oly Bear Preschool.
The high school and preschool students spend their time together in various ways, often making crafts or playing games. The preschoolers are able to work one-on-one with their buddies at improving skills such as pre-reading and writing techniques or fine motor manipulations. For young children, the full attention of an older person during school hours can be very valuable. But there is plenty of playtime added in, too. This free time especially allows preschoolers and buddies to create mutually significant relationships.
Megan Temple is in her second year as the director of Oly Bear Preschool. She and Turcotte work together to make ECE a great experience for all of the students involved. Temple says one of her favorite parts of the job is watching the preschool and high school students get to know each other and then growing because of that connection.
"The preschoolers get the experience of having an older buddy, someone who teaches them and plays with them and they can look up to as a role model. A lot of high school students may not have been in that mentorship role, so it's really great to see them step into those shoes and have a positive influence on someone else's life, especially at such young ages themselves," Temple states.
Many ECE students are looking toward careers in teaching or child care in the future and they revel in the skills that they're learning every day in the classroom and preschool. OHS and ECE student Christine McIntosh wants to be involved in speech pathology or teaching so she took the class to try to increase her comfort around children. Not only does she feel much more relaxed and confident with kids, but McIntosh finds ECE is a constant source of entertainment.
"I love spending time with my preschooler. I always go home with stories, there's always something to tell about the preschool," she laughs.
Sophomore Hope Dorris has learned patience in ECE above all else. She understands the value of regular interaction with a young child to realize that everyone needs their own space to express how they feel.
"ECE has helped a lot with my patience and letting the kids grow. It's about being gentle and affirming. Validating whatever they feel the need to do has really been important. Teaching them to be creative and think outside the box is the goal. I'm learning to be constructive without being too harsh and to teach kids how to do something without telling them what to do," Dorris says.
Some of the happiest hours that the Oly Bear preschoolers and their buddies spend together aren't in the classroom, but on the field trips the classes take to Lattin's Cider Mill and the Hands On Children's Museum. One of ECE student Cullen Crowe's favorite memories of the school year was the visit to HOCM. Crowe loves working with children and already volunteers at the Museum so he was very excited to share the experience with his Oly Bear buddy.
There are OHS students who love ECE so much that they want more than one year of it. Students who have already completed ECE can become Advanced Oly Bear students, functioning as teacher's assistants for Temple and Turcotte. Advanced students take on more responsibility such as helping with lesson plans, making snacks and reading stories. Several teens have spent all four years at OHS as ECE or Advanced Oly Bear students.
The primary goal for Oly Bear Preschool and the high school students who visit is to maintain an atmosphere of joy, learning and creativity. OHS buddies and their preschoolers are genuinely glad to see each other day in and day out.  Temple says she wants nothing less than for the classroom to be "a happy place."
"I make one guarantee in my work life and it's that the hour that you spend in Oly Bear as a high school student will the happiest and most fun hour of your day," Temple promises.