By Gail Wood

Doctors had already told Jamin Rader the terrible news – he'd probably never walk again.
A strange breakdown of his immunities had resulted in an attack on his spinal cord, destroying nerves and leaving him a paraplegic. As he laid in the hospital bed, his legs useless, Jamin, a senior at Timberline High School, did the unexpected. He sent a text message to his high school track coach, Todd Taylor, asking for a favor.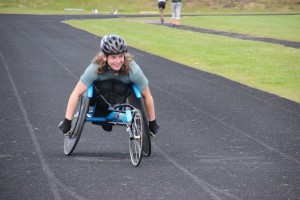 "He wanted to know if he could enter wheelchair events in track," Taylor said.
Rather than roll over in his hospital bed, overcome with dark despair and simply shutting out the world, rather than falling into the deepest pool of self-pity, Jamin accepted his new challenge. His resilience is remarkable, inspiring.
"It is amazing to me that he wasn't in this puddle of funk or saying poor me," Taylor said. "He immediately said he wanted to try the wheelchair events."
A mother of a boy on the Timberline track team has told Taylor that she's cried as she's watched Jamin wheel around the track in meets this spring. His strength, his resilience, is heroic.
Jamin's secret is to focus not on what he's lost – the use of his legs. It's to focus on what he still has.
"I'm super lucky. I'm only a T-5, which means I have everything up from here," Jamin said, smiling as he talks. "You see guys in the hospital who are quadriplegic who can only move their mouth and stroke victims who are blinking to communicate."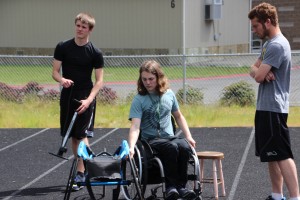 Jamin's journey began on November 9, 2014. It was just a couple of weeks after he finished running in a cross country meet for Timberline. He had gone to bed when his legs began cramping. Wanting to stretch to stop the cramping, he got out of bed and his legs wouldn't hold him. He couldn't stand and he collapsed to the floor.
"Then this happened," Jamin said then pointed to his useless legs. "I wasn't strong enough to hold myself up."
He spent 38 days in the hospital, taking tests and going through treatments in the hopes of giving him his legs back. Eventually, he was diagnosed with transverse myelitis, a rare inflammation that attacks the spinal cord. But even in his darkest hour, when the 18-year-old had heard he was a paraplegic, he was not crushed by the news.
"He pretty much amazes everyone around him. He takes challenges in stride," said Morgan Lockhart, Jamin's girlfriend. "More than anyone around, he's always been a positive person."
Jamin's parents, Heather and Kurt Rader, and other family and friends wanted to encourage him. But it was always Jamin who brought the encouragement.
"That hospital room could have been a very negative environment for everyone," Morgan said. "He supported everyone. He was the light source for everyone."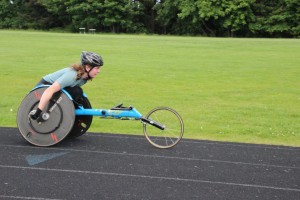 Jamin is a fighter. Whether he's playing cards or a board game with friends, or circling the track in a meet for the Blazers, Jamin was always wanting to win and do his best. It's his competitive nature.
"I've always loved competition," Jamin said. "Whether I show it against people or not, I'm competing."
Even in the hospital as Jamin was being taught how to move himself from a bed to a wheelchair, his competitive juices where flowing.
"I got the opportunity to learn all these new things," Jamin said. "I'm not saying I liked rehab. It was terrible having to learn how to sit up again. But the challenge was learning something new. Everyone in rehab was trying to get better too. It kept me going."
He wanted to do it the fastest, the best.
Now, as he works out in a wheelchair at track practice, Jamin remains an inspiration. After running a mile in track last spring as a junior in 4:54, Jamin had to learn how to do it in a wheelchair. It wasn't easy. Even getting into his wheelchair isn't easy. He pulls at his limp legs and slowly scoots from his regular wheelchair.
Earlier this spring he did his first mile in a wheelchair in almost 12 minutes. But as his conditioning and technique has improved he's dropped his mile time to just under seven minutes. Of course, he's wanting to go faster.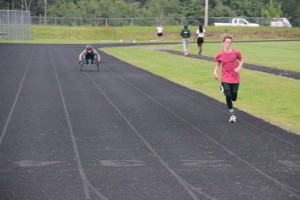 "To be honest with you, I wasn't sure how it would work out," Taylor said about Jamin competing in the wheelchair. "But it's been a good thing."
That's because Jamin, with his can-do attitude, has inspired his teammates, classmates, coaches and the entire school. Jamin returned to school after the winter break in January. There was no delay, no hesitancy as he even wondered if he wanted to go back to school. He was set and determined to go.
Even after missing over a month of school, Jamin caught up on his homework and still got all A's, maintaining his 4.0 GPA. The last time Jamin got a "B" was in sixth grade. In the fall, he'll attend the University of Washington.
And his classmates have welcomed him back with their arms wide open. Jamin and Morgan were crowned king and queen of the school's senior prom.
"He's an amazing kid," said Bob Atwell, Timberline's long-time cross country and track coach. "There's no way I could have the attitude he has."
Physically, the prognosis isn't good for Jamin. If a foot twitch or some movement hasn't returned by six months, there's usually no improvement. He's right at seven months. Jamin knows and accepts that. When asked what his source of strength was and how could he endure his hardship with such boldness, he shrugged his shoulders.
"That's a tough one," he said, pondering the question.
Then he said, "It would have been a lot harder without family there at the hospital. With people keeping me up, out and active that was really helpful on the bad days."
But with no remorse, Jamin looks forward to tomorrow – ready for his next challenge.