By Nikki McCoy

Joy Johnston, a seasoned belly dancer, and busy mom who runs her own PR firm, was breastfeeding her daughter when she first noticed the lumps in her breast. Thinking it could be clogged milk ducts, she wasn't too bothered.
But four months after weaning, the lumps were still there. And they were the size of golf balls.
Joy was diagnosed with Stage III breast cancer in July 2014. It was an aggressive form of cancer and by the time she was diagnosed, it had spread to her lymph nodes.
She had a bilateral mastectomy and with it chemotherapy, IV infusions and depression.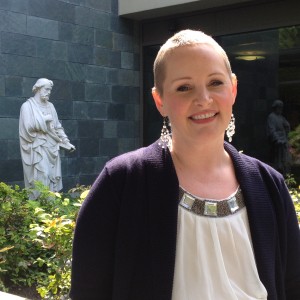 But she also had hope.
During her stay at Providence St. Peter Hospital, Joy discovered the Healing Garden – currently, an empty rooftop at the end of the hall on the oncology floor. But soon, the rooftop will transform into a beautiful garden, with wheelchair access, and pathways, and pockets of privacy, where people can enjoy a moment of sanctity.
"When I was in the hospital, I was in one of my most vulnerable times," reflects Joy. "I was really scared and that point had lost my hair. I just wasn't feeling good."
"To be able to go out in a space and just get some fresh air without the public seeing me would have been wonderful," she continues. "Being in this safe place on the oncology floor where other patients and staff knew what I was going through, it would of meant so much to get that fresh air and feel connected to the rest of the world."
Now cancer-free, Joy's journey continues, with a chance to give back.
In her 20+ years of dancing, Joy also became an instructor, where she produced high-quality performances, not only to give her students a chance to perform in a real theater, but to raise money for charity.
Now she's ready to produce her next show, this one with the cause even closer to heart – Dances of Hope and Healing – a fundraiser for the Healing Garden.
"The timing couldn't be more perfect," says Joy. "As I was mourning the loss of my classes and shows, I realized I have to do something.  It was wonderful to see how passionate the nurses were. I got such wonderful treatment and I thought, 'I know how to do this. I want to do this here.' And it definitely takes on a much more personal meaning."
To learn more about the cause, I meet Joy at the hospital. She and I, along with Jocelyn Wood and Peter Brennan, both of Providence St. Peter Foundation, set off to explore where the Healing Garden will be.
On the oncology floor, it seems a dozen nurses are behind the desk, shuffling papers, making calls, and hurrying to the next room. In front of them, a display holds nurse-made bracelets, and a donation box, benefitting the Healing Garden.
In fact, it was the caregivers and nurses on this floor that spearheaded the idea of a Healing Garden.
Joy remembers a conversation with a head nurse about the garden.
"I got a sense from her voice, and a brightness in her eyes, that this was something that really meant a lot to her and the rest of the staff," she says. "The whole time I was there, I could tell how much the nurses cared. They just sort of got it with how much we have to face."
Amy Forbes is one of those nurses. "I'm passionate about creating a Healing Garden. Our patients deserve a chance to have a place to heal, connect with nature, and be human," she says.
"It's going to be just a wonderful, wonderful experience for the patients that have to be here…who may not have otherwise had an experience to breathe fresh air," agrees Melisa Bruce, RN. "To be able to provide this is just remarkable."
As soon as enough money is raised, the project should take six months to complete. Once open, the 3,000-square-foot space, with low-maintenance foliage, and pathways with reflection stations (plaques with poems or prayers) will be open to all of Providence St. Peter Hospital's patients, families and staff.
Dances of Hope and Healing will help raise some of that money. The event features meditative sounds of crystal bowls and more than 60 performers from across the South Sound, with belly dance, flamenco and more.
Joy herself will be dancing, as will a troupe of her students, dressed in costumes with butterfly wings, made of silk, hand-painted by Joy.
She notes that most people are used to seeing belly dancing done by a street performer, or maybe in a restaraunt, but to see it on stage is a completely different experience.
"To see professional performance on stage is really wonderful," she says. "These are high-class costumes and beautiful shows. It's nice to see women of all shapes and sizes doing what they love. It feels really healthy to me."
Mellilah, a fellow belly dancer, looks forward to participating.
"How could we not be in this show? Joy is a remarkable person, beautiful inside and out," she says. "My students and I want to support her and want to help her raise money for the Healing Garden, so that it's a reality and not just a dream."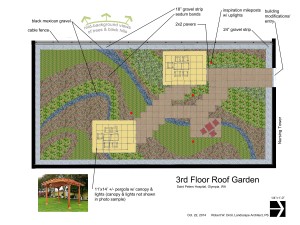 "I want to recognize that this is an absolute grass-roots effort from the caregivers that work with these patients and see the need," says Brennan, executive director for the Foundation. "They brought it to our attention – most projects aren't born from that ground level. The biggest gifts we've received to help make this come to reality are because patients and their family have heard it from caregivers and nursing staff. The most impactful gifts have come from a result of that."
"Joy shared her experience, and the energy and purpose behind it is very special to us," Brennan continues. "We appreciate all she's doing for us."
Most importantly, it will give oncology patients a place of peace and comfort.
Dances of Hope and Healing will feature the meditative sounds of crystal bowls and more than 60 performers from across the South Sound, with belly dance, flamenco and more.
Dances of Hope and Healing takes place, Saturday, June 28, 6:00 p.m. at the Kenneth J. Minnaert Center for the Arts on the South Puget Sound Community College Campus.
Tickets to the family-friendly event can be found here or purchased by calling 360.753.8586.
To donate directly to the Healing Garden, click here.