By Natasha Ashenhurst
Cathy Mah would tell you that life does not follow a straight path, thank goodness, but rather, is lived in stages. She would also agree with the writer Anna Quindlen when she said, "You can probably have it all…just not at the same time."
Recently, I had the chance to sit down with Cathy and talk about her new career as a real estate agent for Greene Realty Group, but what we ended up talking about was the twists and turns our careers can take, how motherhood happily changes our life ambitions and the joy we find volunteering for causes we care deeply about.
Here's Cathy's story.
Cathy was born and raised in Olympia. Her mom moved to the area to attend nursing school at Providence St. Peter Hospital, back when the nuns were the instructors. Her dad spied the pretty, new girl in town, and the rest, as they say, is history.
After high school, Cathy wasted no time entering the workforce, doing clerical work for the Washington State Parole Board at the Capital Center building. But at age 20 she decided it was time to leave Olympia.
"I moved to Seattle. Living in a big city was intimidating at first, but then I grew to love it. First, I worked at Blue Cross, but then moved over to SeaFirst Bank, which is now Bank of America. In between working, I went to cooking school at South Seattle Community College. They had an excellent program – with European chef instructors. By this time I was 30, and I discovered that it was hard to make a living as a chef, so I went back to Bank of America," she said.
When Bank of America downsized, Cathy decided to take advantage of the timing and volunteered for a layoff. She received a severance package and moved back to Olympia. The move changed her life. "In 1991 I went to work at the Office of Financial Management as an Administrative Assistant. I met Doug (Mah) there. He worked in the Forecasting Division. We became friends in 1991, started dating in 1992 and we married in 1993," she said.
Doug and Cathy's daughter, Heather, was born in January 1995. Cathy decided to quit her job and stay home to raise their daughter. "I turned 39 two weeks after Heather was born. I had been in the workforce for 20 years and was thrilled to be able to stay home with our baby. We lived on a single income for years. To make it work we drove old cars and, at first, lived in a tiny house on Tumwater hill. Those sacrifices were worth it. It was fun being a momma—the best job ever. I didn't miss working, I loved taking care of Heather and taking care of my family," she said.
When Heather started school, Cathy followed, volunteering in the classroom and wherever the school needed her. She loved getting to know Heather's classmates and learning about the day-to-day activities at McKenny Elementary.
In 2001, Cathy volunteered closer to home, running Doug's campaign for public office. Doug was elected to the Olympia City Council in 2001. He was re-elected to a second term in 2005. In 2007, he was elected Mayor of Olympia and held that position until December 2011.
After Doug was established in public office and Heather was a busy student, Cathy slowly eased back into the world of paid work, first working from home for Patrons of South Sound Cultural Arts (POSSCA). "That was just enough to keep me busy, yet still allow me to volunteer at Heather's school. I did that for three years, then decided to work outside the house, so I went to work as the Executive Assistant to Brian Vance at Heritage Bank," she said. That was when Cathy had a set-back. "I got sick and couldn't figure out what was going on. I was exhausted all of the time. I quit working, and a year later, I was diagnosed with hyperthyroidism. Once I was treated I started to feel better," she said.
Eventually she began volunteering again, joining the board of the Olympia School District Education Foundation. It was a busy time for their family. Heather was on the go with lots of activities and Doug was working all hours of the day, but Cathy decided that it was time for her to return to paid work.
"In 2011, I went to work for the Olympia Lacey Tumwater Visitor & Convention Bureau as their Executive Assistant. That was a fun job. You get the chance to meet thousands of people coming in from all over the world. I loved helping them plan their visit," she said.
In May 2014, Doug was no longer working in the public sector and had transitioned to his new career as a consultant working from his office at home. So, Cathy decided that it was time to invest in the next phase of her professional life. "In February 2014 I made the decision to pursue a career in real estate and took the steps to get my real estate license. Once I had passed the tests, I started interviewing prospective real estate agencies around Olympia. When I talked to Jim Greene at Greene Reality, I knew, hands down, that I wanted to work in his office. He has the infrastructure in place that I like, the support staff are wonderful and the office has a very good feel to it. Jim is always available if I have a question, and so is my mentor, Jim Hickman. I know I can text either of them at 7:00 a.m. on a Sunday morning and they'll answer," she said.
Cathy said that choosing real estate was the first time that she was intentional about choosing a career that worked for her and her family. "The beauty of the work is the flexibility. I can set my own pace. I can also spend a lot of time with my clients, which is important to me. Buying a home is such a big decision and I want to have the time to work closely with clients in order to find the perfect home for them," she said.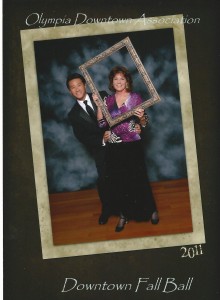 Real estate is also a natural fit for Cathy. It draws on her incredible organizational skills, her knowledge gained from a lifetime of living in the region, and her numerous connections in the community. She said, "Ultimately, real estate is about building relationships, promoting our community and paying attention to the details of the deal. I don't mind working evenings and weekends because I've done that as a parent and as the wife of a politician. It is an easy fit for me."
Cathy has the experience that you couldn't set out to get if you tried. She has the organizational skills gained from years as an administrative assistant, the financial savvy gained from working in banking, and the good taste of a chef. She has the nurturing skills of a parent, the passion of a volunteer and the politically savvy of a campaign manager. Finally, she has the easy manner of someone who has achieved all that they have wanted to, and the understanding that this next chapter is for the love of the work and nothing more.
To reach Cathy Mah, call 360-528-4160 or visit her website at www.cathymah.com.