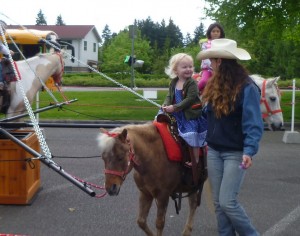 "Spring is when you feel like whistling even with a shoe full of slush," mused writer Doug Larson. Even with our mild winter and balmy weather, nothing signals the change of season as much as the arrival of the Lacey Spring Fun Fair held annually at Saint Martin's University.
Jeannette Sieler is Recreation Supervisor for Lacey's Parks and Recreation department. She explains the event began "in 1988 when the need for a community festival in Lacey became apparent; the Lacey Thurston County Chamber of Commerce sponsored and operated the fair. Saint Martin's donated the space, the City of Lacey contributed financially and with volunteers, and the Lacey Fire Department also provided volunteers. First year's attendance was 8,000 and by 1998 attendance had grown to 20,000 which is over half the current population of Lacey!"
This year's festival will take place on Saturday, May 16 and Sunday, May 17. The event runs Saturday from 10:00 a.m. until 6:00 p.m. and Sunday from 11:00 a.m. until 5:00 p.m. There will be a free shuttle bus provided Saturday only from South Sound Mall to the Saint Martin's grounds. The shuttle will run every 15 minutes from 10:00 a.m. until 5:15 p.m.
In recent years attendance has been approximately 16,000 visitors, enjoying music, games, food, and vendors from across the region. "The Fun Fair has two stages of entertainment so there is never a dull moment," says Sieler. "Some returning favorites include local school groups the River Ridge Taiko drums and Nisqually Jazz Band (both Saturday at 10:00 a.m.), local dance groups High Impact Tap Dancers and DancerZone 360, the Slieveloughane Irish Dancers, and Debbie's Dance are always a hit."
A full schedule of activities, entertainment, and performance times can be found on the Fair's website. New acts this year include the Puget Sound Barbershop Chorus and the Olympia Sweet Adelines.
For kids, there is a Kid's World of art, face painting, crafts, train rides, and inflatable fun. Sieler shares that one of the most popular returning events are the pony rides but last year's giant zip line has been replaced by a teacup-style ride called Tubs of Fun and a bounce-house obstacle course called Leaps and Bounds.
The festival's Grand Parade takes place on Saturday, May 16 at 6:00 p.m. Awards will be presented in more than twenty different categories including 'Most Entertaining,' 'Best Decorated,' and 'Favorite Animal Entry.'
All this fun making you hungry? Prepare to dine on "the usual suspects for fair food. But some things that sounded very interesting on the menus are deep fried candy bars, Krispy Kream Cheese Burgers, Hawaiian donuts, and—wait for it—a Twinkie corn dog," laughs Sieler.
While this feast is digesting, you can enjoy local Frozen author Barbara Jean Hicks, courtesy of Miss Moffett's Mystical Cupcakes. Hicks will be on-site signing books both days from 12:00 – 2:00 p.m. at the Miss Moffett booth. On Sunday at 2:00 p.m. is the All Star Talent Show. There will be cash prizes for the winners as well as a donation to the winner's charity of choice.
This fabulous event is a gift from many behind the scenes helpers from a variety of local businesses, government agencies, and groups. Long-time volunteer and event coordinator Ruth Weigelt explains that the Fair is organized by a committee which "continues to focus on offering a community festival that is both 'free and fun' for people of all ages. When you come to Lacey Spring Fun Fair you will feel a real sense of community with participation from the City of Lacey, Fire District #3, North Thurston Public Schools, Saint Martin's University, Lacey Chamber, non- profit organizations, business community and our citizens."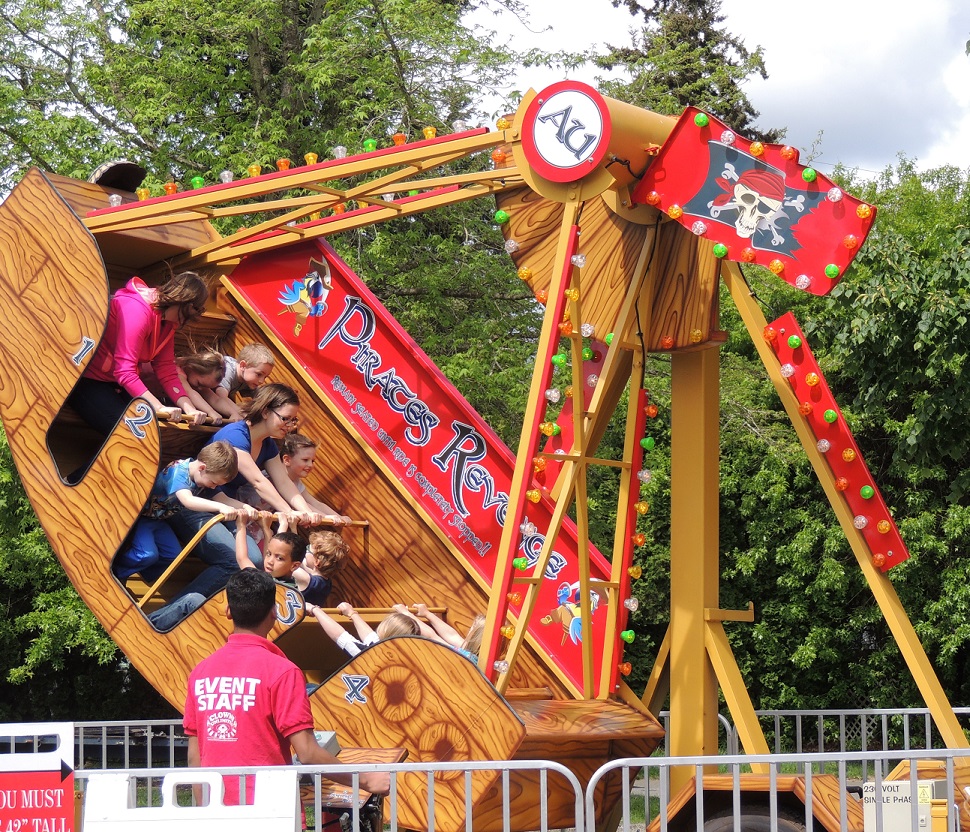 Other benefactors include Saint Martin's University who hosts the event, Lacey Collision and LeMay/Pacific Disposal sponsor the Grand Parade, WSECU sponsors the Talent Show, and overall sponsors Capital Development Company, Molina Healthcare, Navy Federal Credit Union, and North Thurston Public Schools.
If you're looking for a free, fun way to celebrate family, community, and the delights of the season, the Lacey Spring Fun Fair is the way to go. Additional information on events, activities, and how to participate can be found on their website here or by calling 360-481-4393. Follow their Facebook page for photos, music, and up-to-the-minute details.