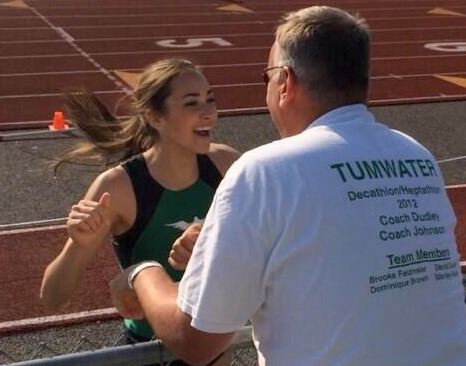 By Taylor Tryon, Tumwater High School Intern to ThurstonTalk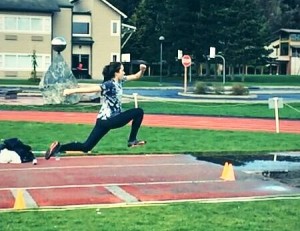 The life of a serious student athlete is all about finding balance between the different things in your life. Peyton Russell, a junior track star at Tumwater High School, has worked hard over the last few years to achieve and maintain this balance, while still excelling both athletically and academically. Her secret? Self-discipline. "You're going to have to make sacrifices, so you have to be honest with yourself and know what your priorities are," said Russell when asked about her academic life and sports balance.  And she certainly has achieved a strong balance.
Russell, a junior at Tumwater High School, has been seriously pursuing her track and field career for the past four years. Prior to that, it was just a hobby for the busy teen. Her two main events are the triple jump and long jump, events she's been practicing for nearly eight years. She's received awards for her excellence in these events multiple times but the victory she holds closest to her heart is her sophomore year state championship. "It was my biggest success, in my mind and on paper. It's probably the most fun I've ever had at a meet, so it means a lot to me that I did my best there, too," reflects Russell.
One of the key components to a successful student athlete is motivation. Russell's biggest motivator, she says, is older brother Lane, a THS and state record holder who is competing for Division 1 Princeton University. "He does the same events as me and he would always push me as hard as I could go at practice, and all other aspects of the sport, like recovery and eating healthy," she explains. "Now he's off at college, but he still gets in touch with me all the time just to motivate me and make sure I'm staying on track."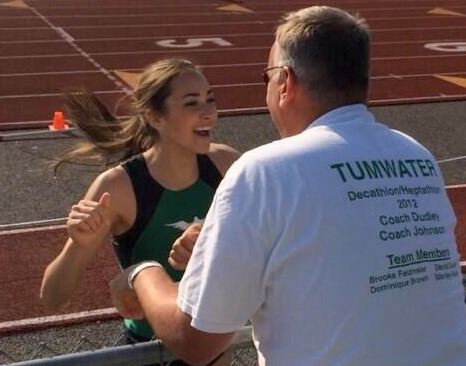 However, even with big brother away at college, Russell is definitely capable of all the self-discipline and motivation she needs, especially where her studies are concerned. "There are parts of the year that I delete all social media off my phone or completely cut out TV just because track or school is reaching a crucial point and I need to focus," she shares of her strategies for success.
Staying on top of the ball academically isn't always the easiest for Russell. "It can definitely be difficult at times," she admits.  This is especially true during the track season in which she often misses school and ends up playing catch up. However, with all the responsibility of her high school life, Russell says she could never imagine it differently. "Almost every aspect of my life is affected by it in one way or another; it's like part of my foundation."
Russell is definitely hopeful she can continue her sport into college, but the distant future isn't something she gives much thought too. "The events I do, triple jumping especially, are very high impact and definitely take a toll on your body, so I don't think I would be doing it as an adult," Russell explains. "For now though I'm focusing more on these next couple years, and not worrying too much about the distant future."
There is definitely a lot ahead of Russell as she takes on this 2015 season, her senior year, and after high school athletic ventures, but she seems to have a firm grip on the balance needed to be a student athlete.
Her final piece of advice for other student athletes is always time management. "So much time is wasted during the day doing trivial things, and you need to recognize that and use it to your advantage. So I'd just say to recognize when your time could be used more effectively, because it usually goes unnoticed."
Russell is currently holding the top spot in the 2A Division for triple jump with a distance of 38 feet 10.75 inches, leading the next competitor, by two feet ten inches.  She's ranked fourth in state and hopes to climb even higher as the season continues.
You can guarantee she'll be giving it her all, working towards state on May 28.