By Megan Conklin
Patients at Olympia's Small to Tall Pediatric Dentistry will have plenty to grin about when they first arrive at the new office. The stunning new facility was very intentionally imagined, planned, and built by a dream team of Thurston County architects, designers, builders, and even artists.
Garner Miller of Olympia's MSGS Architects was the lead architect on the project and had the idea of asking Olympia artist Nikki McClure to create art for the new space. "When I started working on the design of the new office for Dr. Rowley and Dr. Ruder, it became clear early on they were looking for a smarter, more challenging and engaging experience for kids than what you typically find in pediatric health care," explains Garner. "Cartoonish murals on the wall weren't going to cut it."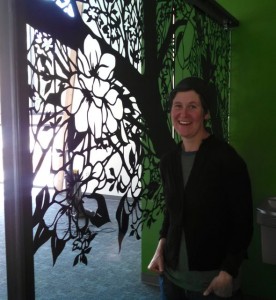 Garner, a long-time fan of Nikki's art came across her piece entitled "Strengthen" and thought "it captured in visual form the essence of growing up and was perfect for the Small to Tall practice."
Garner reached out to Nikki McClure and explained his vision. He wanted the piece expanded and displayed in a large format and on glass, so that kids would feel as if they were almost a part of the scene. Nikki's son, who is also a patient at Small to Tall, is genuinely "a part" of the scene since she features images of both her son and husband in the original piece, "Strengthen."
Nikki created the original piece almost eight years ago, when her son was two. She was interested in Garner's challenge to expand the piece, add to it, make it larger and have it work in a new medium – glass. "I was interested in the project because I like the idea of something that looks good small, also looking good large and blown up," Nikki explained. "And, I liked the see through element."
Wendy Garrison, owner of Garrison Design, worked closely with both Garner and Nikki to figure out the nuts and bolts of taking a paper cut piece of art and turning it into a memorable large glass display. Wendy's work is also frequently seen at Seattle Children's Hospital.
When Nikki and I visited the new Small to Tall building on the day her art was installed, we were both captivated with the size, clarity, and beauty of the piece. While stylistically familiar with Nikki's art, the glass wall full of tree branches, flowers, and leaves was like no Nikki McClure art piece I had ever seen – and I have seen a lot of it. I loved the way the light flowed through both sides of the glass wall and changed the scene as it moved around. Nikki, too, appreciated the finished piece, noting: "I like it. It is very true to its original form."
While Nikki's art will probably be the first thing patients will enjoy upon entering the new, state of the art facility, it won't be the last. Small to Tall's Dr. Benjamin Ruder, or Dr. Ben as my children call him, has been practicing pediatric dentistry in Olympia since 2008 and was "excited to develop a new building for Small to Tall Pediatric Dentistry that would serve as a resource for pediatric oral health in the greater community."  One of Dr. Ruder's primary goals was to keep the experience as local as possible and he is pleased to remark that, "nearly everyone involved to help bring this vision to fruition has a tie to the community."
Like his partner, Dr. Scott Rowley wanted to use local talent to make the new building unique and appealing. "The design of our office is set up specifically to create a fun, engaging, and state of the art experience for children," he asserts. "For example, on the way in from the parking lot, kids can follow a winding path, cross a wooden foot bridge, enter through a small child-size door and pass bright colored furniture to a tree house."
"You know a project is special when I run into people around town and they tell me how cool the new Small to Tall Pediatric Dentistry office is," says Forma Construction's Drew Phillips, who was responsible for building the pediatric dental office. "The project is 100% locally designed and built and showcases the quality of our community's trades."
The tree house, mentioned by Dr. Rowley, was designed by Turner Exhibits in Lynnwood. Turner designed the Hands On Children's Museum's epic eagle's nest, so this tree house is sure to be a hit with the small set. As Dr. Rowley says, "Having this art piece and a tree house in our lobby makes our office a place kids want to go to." Another feature my children are excited to try out are the television screens for movies above chairs where more involved care is provided.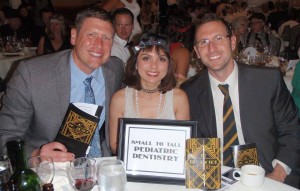 Small to Tall Pediatric Dentistry has always been a place where my children, as patients, have felt cherished and valued. And Nikki McClure's art has always mesmerized me, as well as fans everywhere, with its simple, honest depictions of parenthood, nature, and celebration. The combination of these two Olympia treasures brings me great joy and is sure to delight everyone – from the smallest to the tallest.
To visit Nikki McClure's art or make an appointment with Dr. Scott Rowley, Dr. Ben Ruder or Dr. Rosaleen Shavron at Small to Tall Pediatric Dentistry, call 360-459-5885 or visit their new office (opening in late May) at 3442 12th Ave NE in Olympia.