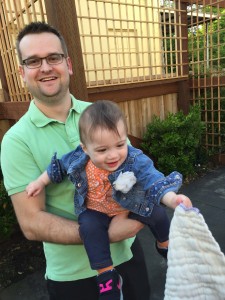 Within days of each other, the vanRoojens and their best friends brought babies home ready to be diapered. Surprisingly, they all discovered that there was not a local cloth diaper service in the Olympia area. This new reality gave Toby vanRoojen the impetus to juggle the care of his new family and start a new business. Thus was born the Olympia Diaper Service in July 2014.
"Considering the size, demographics and values of this community, it didn't make sense to me that this town did not have a cloth diapering service. I grew up here and I appreciate the forward-thinking local culture.' explains Toby. "I attended Lincoln Options Elementary School, then Marshall Alternative Program and The Evergreen State College-all with progressively-minded people. I know there are other families out there that care about chemicals on their baby's skin and the waste going into landfills. I just feel like if anywhere should have this service it would be Olympia. So with the absence of a diapering service and with the inspiration of my daughter, I decided to be the one to make it happen."
Olympia Diaper Service offers weekly service which includes 100% unbleached cotton diapers, a diaper pail that contains odors surprisingly well with a deodorizing disk, doorstep delivery and pick up, and gentle washing with a detergent specifically designed to leave no residue. The detergent, Country Save, is a local Washington and veteran owned company- just another indication of how Olympia Diaper Service makes thoughtful decisions about all aspects of its business. They never use dyes, fragrances, optical brighteners, unnecessary chemicals or chlorine bleach.
As part of running a successful business, Toby considers it vital to educate the community about the environmental concerns of disposable diapers and the benefits of cloth or reusable diapers. In particular, he feels it is critical to dispel the perception that disposable diapers are more convenient.
"My goal is to make using a cloth diapering service as convenient as the use of any disposable," he notes. "So for those who are concerned with exposure to chemicals and the environmental impact why wouldn't you use a service if it is just as convenient and probably less expensive as the cost of disposables? If I can make it just as easy then why not?"
According to Olympia Diaper Service, the average child will go through 8,000 diapers in his or her lifetime. The manufacturing of disposable diapers consumes an inordinate amount of natural resources such as 300 pounds of wood and 50 pounds of petroleum per year and clogs landfills with over 2,000 pounds of diapers per baby. While diapers are promoted as disposable, that should not be confused for degradable, as most diapers are not biodegradable or eco-friendly. It is believed that a typical disposable diaper will take hundreds of years to fully decompose. Disposable diapers have become the third largest source of household waste in the United States.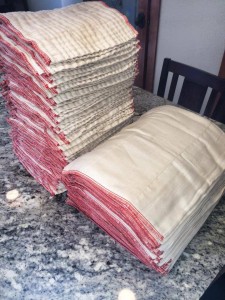 The Olympia Diaper Service presents not only a convenient option with its weekly delivery service but an environmentally-friendly solution to this problem. By using cloth diapers, families can have a positive impact on the number of disposable diapers that are headed to the landfill.
Whitney L., the very first customer to Olympia Diaper Service, proclaims, "The prices are less expensive and the customer service has been great. They are very attentive to our changing diaper needs and have offered useful tips."
Frequently, Toby will insert helpful tips with his deliveries to keep his customers informed and amused. And as indicated by Whitney, babies do grow. Olympia Diaper Service offers three sizes in its pre-fold cloth diapers.
An additional client, Evan Welkin shares, "We particularly recommend requesting gift certificates from Olympia Diaper Service at baby showers or from family." Toby explains that they have had many customers receive six to eight months of diaper services from gift certificates. And recently, Olympia Diaper Service donated a year's worth of service to the Boys and Girls Club Born to Be Wild Auction in which the recipient just started their service two weeks ago.
Olympia Diaper Service is committed to making the important decision to use cloth diapers an easy, economical and fun experience. They take great pride in their service and focus on flexibility, responsibility and reliability. They ensure the health and environmental benefits of cloth diapering at the cost and convenience of disposables.
Visit the Olympia Diaper Service website to learn more about their services. Or visit their Facebook page to stay up-to-date. You can also contact Toby at toby@olydiaper.com.