Buildings constructed today with sustainable design and energy conservation in mind are quite different from previous construction methods. Green building features specialized design and material to limit environmental impact by conserving as much energy and water as possible and are constructed of recycled or renewable materials in order to achieve maximum resource efficiency. Creating these new designs requires skilled workers not only architects, construction managers and carpenters but also heating, ventilation and air conditioning (HVAC) specialists.
New construction in green building, advancements in technology as well as demands to replace less efficient systems are creating job growth opportunities for HVAC specialists. Indoor climate control design, installation, maintenance, repair and retrofitting are all expected to expand in the coming years as growth is spurred by three major "green" initiatives focused on energy efficiency, renewable energy and environmental quality.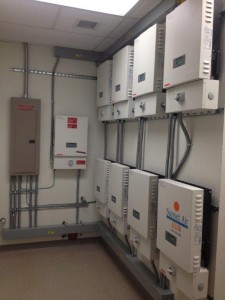 HVAC technicians design, install, test and maintain energy efficient climate systems for both new and existing construction and often are required to tie climate systems into new smart grid systems. Solar heating along with geothermal are the most widely used renewable climate control sources used for renewable energy HVAC solutions.
Sunset Air, the local expert in heating, ventilation and air conditioning (HVAC) systems takes great pride and effort in recruiting and training highly skilled workers who enjoy the challenges of the evolving industry.
Karen Johnson, Human Resources Manager at Sunset Air comments that many people are attracted to HVAC work because of the new technologies and products that the industry is introducing, particularly in green construction. "Our employees enjoy working with innovative green building products that are environmentally friendly and energy efficient. Products like Geo Thermal Heat Pumps (also known as ground source heat pumps) and Variable Refrigerate Flow (VRF) systems with variable speed compressors and PV Solar technology meet our customer's interest in energy efficient systems and our employee's interest in learning new products and technology."
"A career in HVAC is challenging and interesting because the products and equipment are becoming more efficient, more innovative and more complex," she continues, adding that it also provides a good, livable wage. "At Sunset Air, we start entry level employees out at about 20% above minimum wage and it goes up from there," adds Johnson.
Ryan Pantier, a Mechanical Design Engineer at Sunset Air concurs that working in the HVAC industry brings challenge and opportunities for continual learning. "It's exciting to be on a team that is on the cutting edge of green building design and technology." As an HVAC Mechanical Design Engineer, Pantier plans out HVAC systems for new buildings, conducts studies for upgrades on existing systems and works with contractors during construction to make sure systems are built and installed properly.
The HVAC industry offers a variety of jobs and continual training as technology improves and as employees pursue career advancement. Johnson explains, "In our industry there are always classes to take. There is constantly new technology, equipment installation changes every year, products become more energy efficient, and smart homes become more sophisticated. Now you can control your mechanical system through your smart phone or iPad."
Johnson continues to explain that not only are there advancements within the industry due to technology changes but advancements occur as the profession offers a career path from entry level positions to roles with more responsibility and complexity.
"At Sunset Air we typically bring someone in at the entry level. They receive a lot of on-the-job training for the first couple of years of employment," she explains. "They work side by side with a knowledgeable journey level worker. As they show interest and a propensity for the work, particularly for those who are more mechanically inclined they can move into the apprenticeship program. As they gain more knowledge and skills they can move into a retrofit position to replace HVAC systems and further train in service work."
"An HVAC worker can have a 10-15 year career path from entry level to commercial work," continues Johnson. "Sometimes employees find a niche in which they want to remain, which provides the company a huge value in staying in an area of expertise. There are so many opportunities from running a crew as a foreman to a journeyman trainer or a lead technician."
Consider Michael Drake, an HVAC Retro-Fit Install Foreman at Sunset Air. His love for the job stems from both constantly learning and working with customers. Many of the Sunset Air employees find their job satisfaction in customer service especially when they are able to solve a problem and improve comfort levels. Drake explains, "In this job and in the HVAC and building industry, you are constantly learning new things. The equipment and technology are always changing and therefore we are always learning-this keeps the job interesting and challenging. Every day is new. You never know what problem you will have to troubleshoot and taking care of our customers provides a lot of job satisfaction."
Click here to learn more about Sunset Air.
Sunset Air
5210 Lacey Boulevard SE
Lacey, Washington 98503
360-930-6298