By Sara Hollar, Olympia High School Intern to ThurstonTalk
Club life at Olympia High School is lively, with many students belonging to several different clubs. One of the newest additions to OHS's repertoire of clubs is Dot Diva. Started in the spring of 2014, Dot Diva is just one year old. However, the club has already been making an impact on how OHS students look at computer science and its members have big plans for the future.
Dot Diva is a national organization dedicated to promoting computer science skills and careers to high school aged girls. Women are severely underrepresented in many Science, Technology, Engineering and Mathematics (STEM) careers and college programs, especially computer science. Dot Diva and other groups are looking to grow young women's interests in these fields to start to even out the gender gap and change girls' perspective on the value of computer science.
OHS math teacher and Dot Diva faculty advisor Jan Stuckey understands the problems facing women in STEM fields better than most. Stuckey has advocated making computer science more accessible and applicable for OHS students for many years. "Computer science is a part of everyone's life so why not make it a part of everyone's education?" she says.
Stuckey created a Dot Diva club at Olympia High School in spring 2014 and interested students took the club on as their own. In the 2014-2015 school year, Dot Diva at OHS consists of a group of teens committed to building a foundation of computer science and STEM skills. Senior Riana Hoagland and junior Jiali Zhang are the club's co-presidents and Mai-Nhien Dang joins them as vice president. Dot Diva members meet on Wednesday mornings during OHS's weekly late starts. At the beginning of meetings, announcements and any necessary information is given and then the students get to learning.
Last year, Stuckey gave Dot Diva members an introduction to the Java programming language to provide them a basic understanding of what computer science involved and ease trepidation about programming. This year, as the club progressed, co-president Hoagland decided to lead the club with an introduction to robotics. Dot Diva members were able to build robots from kits over the first few months and are now learning to program them.
The students are hard at work during meetings but the atmosphere is very relaxed. The goal for members isn't to come out of the club as a programming expert. Instead, students learn together, sharing ideas, tips and insights. Many members hope to attain background knowledge of programming before an AP or college computer science class. Dot Diva is all about trying computer science on for a size. The club emphasizes growing interest in the in the field as STEM careers become increasingly numerous and important.
"Even though Dot Diva is a club that's targeted to women, it's all inclusive for anyone who is interested in this type of career or just wants to get that basic level of skill for computer science," Zhang says. Dot Diva is looking to increase membership, of girls and boys alike, at OHS and to get the word out about the importance of computer science.  As the club gains momentum, there is hope that Dot Diva can expand into new areas of computer science, such as code language.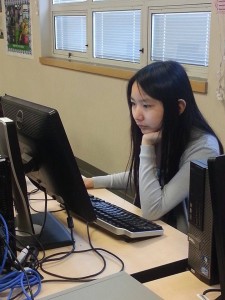 As the students of Dot Diva learn, they are also passing on knowledge and enthusiasm for computer science to the younger generations. Reaching out to the community has become an important part of OHS's Dot Diva club. Members have volunteered at the Hands On Children's Museum and Washington Middle School and continue to look for more opportunities to extend Dot Diva ideas and passion on to the next generation of learners. The club is also seeking more ways to get involved with children to cultivate an early interest in STEM and computer science, especially for young girls.
Dot Diva is encouraging many skills in the teens who join, both on and off the computers. For Zhang, one of the best parts of the club is being able to watch programs come alive through the robots they've built. But for each member, Dot Diva means something a little different – a chance to learn new skills, build a foundation of knowledge, explore the STEM fields, make new friends and connect with the community. Stuckey gets the privilege of watching these girls come into their own and build confidence in computer science.
"Typically, some of the STEM fields and technical fields have been intimidating to women and I'm surprised that in the 21st century it's still that way, but the data bears it out that it is. I hope we can continue to introduce computer science to more and more young women and make it feel accessible and like something that they can conquer and master so that no one feels intimidated.  I want to help women feel like they can do anything," Stuckey says.
Olympia High School's Dot Diva club is fostering a new crop of students committed to exploring what computer science means to them and the ways they can use it. The OHS Dot Divas are well on their way to conquering the world of computer science.