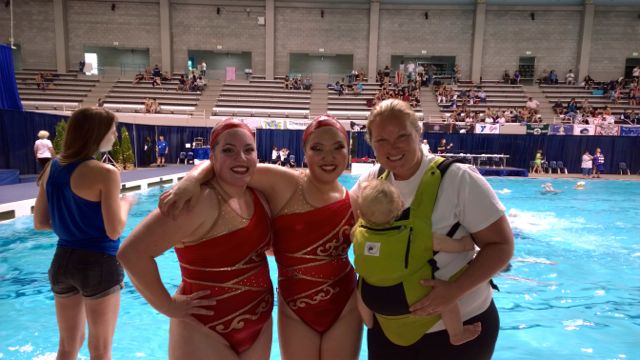 By Gail Wood

Tori Johnson's remarkable story about commitment begins when she was just six years old, tagging along with her mom to the Olympia downtown branch of the South Sound YMCA.  The year was 1966 and it was time for Cathy McDonald, Tori's mom, to coach her synchronized swimming team.
"My first aquatic memory is when I'm on the deck of the pool watching my mom help coach a synchro team," Tori said.
Eventually, Tori was coached by her mom and the family's commitment to Y swim coaching continues. First, Cathy coached at the pool for 20+ years starting in the 1960s, then her daughter, Tori, began coaching the Olympia Synchro Club in the 1980s. Now, Jackie, Tori's daughter who learned how to synchronize from her mom, is coaching at the South Sound YMCA.
For half a century, this one family, from Cathy McDonald to Tori Johnson to Jackie Barratt, has been coaching swimming at the same location. It's been their family's home away from home for three generations.
"I grew up swimming on the team," Jackie said.
Like her mom, Jackie started swimming at the Olympia downtown Y when she was six. She swam at the Y through her junior year at Tumwater High School, where she graduated in 1990 and also swam on the school team and qualified for state.
In 2007, Jackie moved back to Olympia with her husband after living in Portland for five years. She then did what seemed natural to her. She started coaching synchronized swimming at the Y, just like her mom and grandmother did before her.
"I have a lot of connections because I grew up swimming there," said Jackie, who has two young sons. "I coached in Portland for five years and when we came back they needed someone and here I am."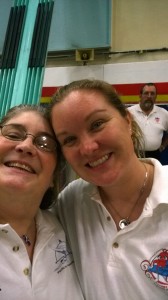 Over the years, Cathy, Tori and Jackie have essentially been the face of the Y in downtown Olympia for kids signed up for swim lessons. It's been a friendly, happy face.
"They're always friendly and talkative," said Courtney Covey, the aquatics director for the Olympia downtown branch. "They'll talk with just about anybody."
And it's not like Covey has had to be on the phone, calling them, asking if they're coming. They've been reliable and on time.
"They've been very dependable," Covey said.
In the early 1980s, Tori began coaching at the downtown Y and coached her daughter. Tori restarted the synchronized swimming team in 1990 and until last year the downtown Y sent someone to nationals every year since 1994, a stretch of 20 years. But for Jackie and Tori, the real sense of accomplishment and satisfaction comes not from how many trophies the Y has won, but it's the lives changed.
"The special personal stories are the best," said Tori, a 1978 Timberline High School graduate. "We've had some people who have come through some tough times."
Tori talked about a girl who had a difficult family life and endured some hard challenges.
"She had a really tough, young life," Tori said. "Today her kids call me nanny. They are part of our family. It's a neat thing to have people who went away and kind of got off the track and remembered synchro, remembered me, remembered the Y and they come back around and say hi."
Both Tori and Jackie will be in the grocery store and they'll hear someone say hi to them. It's often someone they coached.
"They'll come up to me and say they can't believe it's me," Tori said. "It's fun."
It's been a team effort for the past eight years. Jackie now does most of the coaching and her mom handles the parent meetings and other administrative tasks. Six days a week, Jackie, who is a stay-at-home mom, is at the pool, coaching and teaching young girls how to perfect their synchronized swimming skills, which Jackie compared to gymnastics in the water.
On May 17-18, Jackie will take five intermediate team members to the regional competition in Portland. Harrah Orth and Iris La are Jackie's two top performers and they'll compete at regionals in the duet competition. Kilee Freeman will compete in the solo competition and Joy Matsuoka and Lucy Cook will also compete.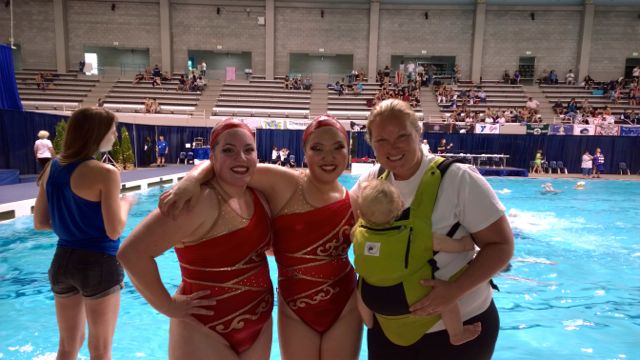 Right now, Jackie has 11 in the youth program. She also coaches the Orca Youth Swim Team at the Y.
"Coaching is what I love to do," Jackie said. "That's because I grew up swimming. I love swimming and I want to encourage new swimmers to try it and see if they can succeed with it. I also want to encourage physical fitness and hope that it will be something they'll do the rest of their lives."
Cathy, now 76, doesn't come to the meets or practices anymore. But despite arthritis, she still comes to the downtown Y and swims one mile three days a week.
"She doesn't care how long it takes her," Tori said. "She just keeps moving. With her cane and her slow moving that's the place she feels the most comfortable and free. Arthritis is giving her some troubles. But she's still moving the best she can."
And of course, that includes going to Olympia downtown branch of the South Sound YMCA.
To learn more about the synchronized swim team or other components of the Y's aquatics program, click here.