By Gail Wood

Ally Choate swings at the pitch and smacks a single into center field for a leadoff hit. Her swing looks so effortless, so smooth.
But while she makes it look so easy – Ally is batting over .700 for Yelm High School's fastpitch team so far this season – there's nothing effortless about her accomplishments on the fastpitch field or in the classroom. She's a tireless worker.
She has a batting cage at home, often working on her swing as her dad pitches to her. Before a recent game against Olympia, she took some extra batting practice during spring break and on the first pitch of the game she hit a home run.
"She's earned every award she's gotten," said Dan Choate, Ally's dad and biggest fan. "She works hard and she deserves every award she gets."
Ally's hard work – she's on a club fastpitch team, the Washington Lady Hawks, and plays year around – has had a mega-lotto payoff. Last year as a freshman, at an age when players are typically cast as watch-and-learn observers, Ally was named the 4A Narrows League's MVP after hitting a spectacular .625. Freshmen don't usually end up starting on a 4A team let alone make all-league or league MVP. But Ally did.
"It doesn't happen very often," said Lindsay Walton, who is in her 10th season as Yelm's head fastpitch coach. "She's well deserving of it. It's so enjoyable to watch her play. She's a great athlete and a great person."
Ally might still only be a sophomore, but she's a leader despite her youth.
"She's young, but she's very mature for her age," Walton said.
Two things often happen to an all-league player who is exceptional at their sport. One, they become single minded, focusing only on their sport, forgetting about homework. Two, they become so consumed by their sport they're only concerned about their stats and about their performance. Walton said Ally is neither of these.
"She's someone who truly cares for others," Walton said. "She's also somebody who wants her team to be successful. She wants others to be successful – not just herself. She wants others to do as well as she does."
And Ally's commitment to fastpitch hasn't eclipsed the classroom. She's an A-student, carrying a 3.996 GPA. The last time she got something other than an A she was in seventh grade taking a high-school level algebra class. She got an A-minus in the class. She's never gotten a B in a class during middle and high school.
"I think what drives her the most is not fastpitch," Walton said. "It's what she's going to do later in life. Fastpitch – she loves it. She also knows that's not what she's going to do the rest of her life."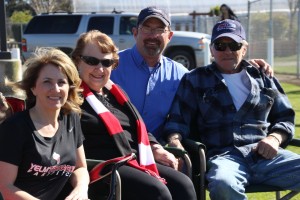 But her fastpitch days won't end when she takes her last swing at the plate for the Tornados her senior year. She's already accepted a scholarship to play at Seattle University. Besides liking the coach, school and fastpitch program there, Ally is excited about going to Seattle University for one more reason. The school offers the major she wants – ultrasound technology.
"I'm so excited I'm going there," Ally said. "I want to do ultrasound when I'm older. That's the only school that offers it in Washington."
Ally has always excelled in the classroom. Even when she was little, her parents didn't have to ask her to turn off the television and do her homework.
"I've always tried to do the best I can do," Ally said. "It just takes hard work. I study at least three hours each night."
There watching every swing as she plays center field for Yelm has been her parents, Dan and Michelle Choate. They never miss a game.
"They're really supportive," Ally said. "I wouldn't be where I'm at without them."
There's a genetic appreciation, too. Ally is a second generation Choate on Yelm's sports team. In the mid 1980s, her mom played volleyball at Yelm and her dad played football and baseball.
"My dad was a football star," Ally said. "They were high school sweethearts."
For Ally, she said fastpitch has taught her several life lessons. It's taught her about discipline, commitment and resiliency.
"I've grown so much from this sport," Ally said when asked what she likes about playing fastpitch. "You have to learn to pick yourself up from mistakes because you're going to make them all the time in this game."
And besides learning how to get up and try again, Ally said fastpitch has also taught her how to make friends.
"Also, I've learned how to interact with people," Ally said. "I've learned how to make friendships. And I've learned about communications, about how to talk with people."
At a recent game against Stadium, Ally had her regular cheering crew – her parents and grandparents – Tonia and Orville French.
"She's the hardest working kid I've ever seen," Dan said as he watched his daughter play. "Luckily, she's mine."