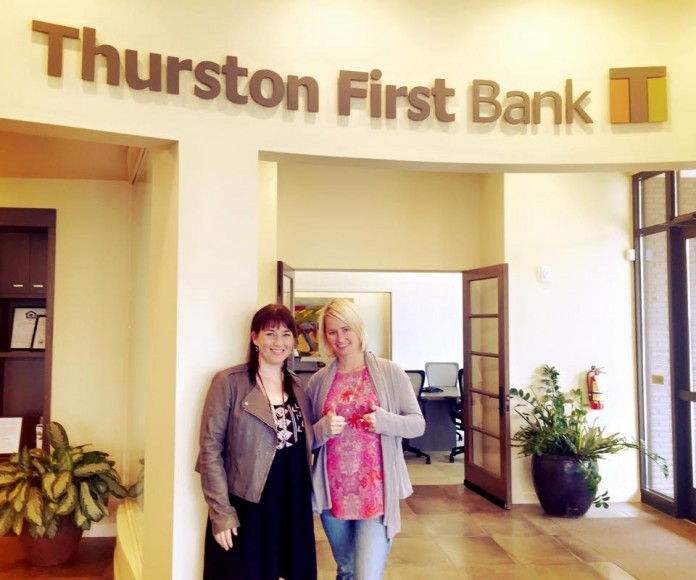 By Amy Rowley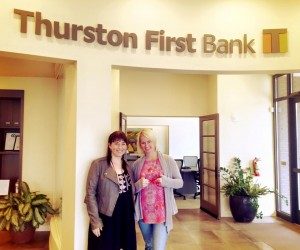 I am a fierce proponent of shopping local. I grew up in a third generation retail business, listening to my dad and grandfather speak nightly about developing repeat customers through exceptional service, supporting the community through philanthropy and designing a work environment that creates loyal employees.
The part that I think people miss sometimes, myself included, is that "shopping local" doesn't just end at retail businesses. Supporting local businesses also applies to the banking industry.
Amy Evans and Annie Johns are like-minded business owners (and sisters) with a passion for Thurston County businesses. The duo operate Bon Lemon and Spruce Skin & Wax Shoppe respectively in a freshly renovated space in West Olympia. (Read more about their businesses in this previous ThurstonTalk article.
Annie and Amy recently made the switch to Thurston First Bank, breaking up their previous relationships with national institutions.
"I have been considering the switch for a while. I was at a national bank and wanted to support something with more ties to the local community," explains Amy, proprietress of Bon Lemon.
She learned about the features of the bank from CEO Jim Haley and two board members – Ralph Munro and Ruthann Goularte – and quickly shared that information with her sister, Annie.
Community Focused Business
"What stands out to me is their flexibility, commitment to the local community, and the integrity and business savvy of the Thurston First board," explains Amy. "This bank was founded by people who understand business and they have created solutions that make my life easier."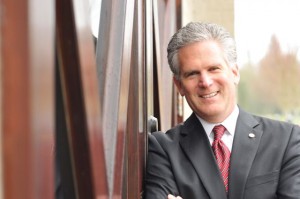 "When you like and believe in something, you naturally want to share it," says Ruthann Goularte, owner of Drees and Thurston First Bank board member.
"I choose to do business with people I like and trust," Ruthann continues. "I have a huge respect for the Bon Lemon and Spruce team and felt that they would benefit from the relationships and attention to detail from Thurston First Bank like I do."
Downtown Olympia Branch
Annie, Amy and Ruthann are all passionate about space and design. "An old saying I heard many years ago in retail states that you will know how a business feels about their customer by the way they maintain their restrooms. I have never forgotten that and Thurston First Bank knows that too," describes Ruthann.
"Thurston First Bank tells a lot about themselves through the people they hire, the ambiance they provide and the professionalism of their staff. Not everyone cares about these things but I feel that the business owners who run dedicated businesses do care," she adds in appreciation.
Amy goes one step further and describes the interiors of Thurston First Bank's downtown Olympia location as "drop dead gorgeous, feeling much more like a swanky hotel than a boring bank."
Business Banking Options
Both shop owners rave about the mobile banking option supplied by Thurston First Bank. And this "mobile banking" isn't an app you access on your phone – it's a banker who actually drives to your business. "They pick up my deposits! As a small business owner, I don't often have time to run deposits in during regular banking hours, so my checks pile up. Having someone come get my deposit or bring me change in the middle of the day is a luxury I would gladly switch banks for," shares Annie with enthusiasm.
Like most small business owners, access to capital can be key. When first starting their businesses, the sisters faced initial push back from institutional banks. This created a sour taste for them both.
"I believe small businesses are what make communities great and banking at a local bank that is willing to take a chance on a new idea matters," notes Amy. "I haven't borrowed money from Thurston First, but if I need to, I am confident they will look at my business as more than just a number on a page."
"The Thurston First Bank board members are forward-thinking, hard-working and long-time community members who I know and respect. I feel that their approach is much more personal – getting to know me as a client and finding true business solutions," explains Annie.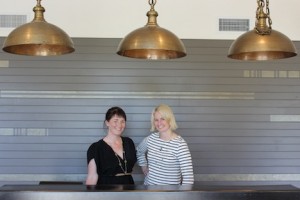 As more banks merge or are gobbled up, Thurston First Bank is one of the few community banks left in our area.
"When all your smart friends are doing something, it makes you want to do it too," summarizes Amy when discussing why she switched to Thurston First Bank.
Thurston First Bank offers individual and business account options. To learn more, step inside the downtown Olympia branch at 600 Franklin Street SE.
Visit Bon Lemon and Spruce Skin & Wax Shoppe online or at 4419 Harrison Avenue NW in West Olympia.